The "Pyramid Temple" is a building the Crystal Gems visited in "Serious Steven".
Description
The Pyramid Temple is an old building situated point-side down in the Gem Battlefield. The entrance is a door-like object with a hole - slotting a small pyramid into the hole causes the entrance to shapeshift into an open set of stairs leading to a large room.
The large room has a pedestal with a small floating pyramid. On the ceiling are carved images of Gem battles and murals on the walls appear to depict the booby-trapped corridors within the pyramid. Turning the pyramid on the pedestal so that it points upwards will reverse gravity and cause visitors to fall through an open hole in the ceiling, which leads to the central chamber before the hole closes.
The central chamber contains entrances to booby-trapped corridors. The rooms spin within the pyramid; temple visitors are always returned to their initial position in the central chamber regardless of what corridors and rooms they enter.
Episode appearances
The Gems travel to the temple to retrieve a gemstone. Garnet unlocks the entrance with a small pyramid she summons and slots into the Temple. When Steven figures out that the rooms spin them around to end up in the same room, Garnet smashes the floor, revealing the gem which is powering the spinning mechanism. Garnet throws Steven to retrieve the gemstone and as he does one side of the obelisk the gem is centered on turns and seems to be smiling when Steven takes out the gemstone.
After the gemstone is removed the spinning pyramids stop moving and degenerate with a yellow glow that flows into the gemstone. The temple fires a yellow beam into the sky before it explodes. All of the Gems are unhurt by the explosion and Pearl bubbles the gemstone, completing their mission.
Mural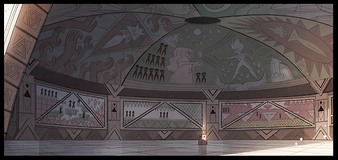 Within the temple are three sections of a mural. The middle section depicts 
Rose Quartz
and her troops battling an unknown white Gem with white crystals surrounding the gem, an unknown blue gem and one which may be
Yellow Diamond
surrounding her. More of these crystals can be seen at the top of the section. The other two sections display other Gems that look similar to the Gem that is battling
Rose Quartz.
The mural most likely depicts the war that occurred on
Earth
when
Rose Quartz
rebelled against the
Homeworld's
destruction of the planet. Underneath Rose Quartz are small figures in different trials. After each trial, none survive. These trials are the same ones
Steven
and the
Crystal Gems
encounter.
Gemstone
| | | |
| --- | --- | --- |
| Information | | The Pyramid Temple's gemstone is located in the center of the Temple. |