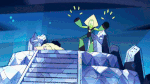 "You have to fix this!"
"

You know, you really have been quite the unruly house guests. Oh Prism! I think it's time we see our guests out.

"
—Unleash the Light

Pyrope was one of the main antagonists and a boss in Unleash the Light. She was an Era 1 Garnet who was a former holder of the remaining Light Prisms.
Appearance
Pyrope's build was similar to that of Hessonite and Demantoid with pink skin and a crimson hairstyle resembling an afro. She also has white eyebrows. She wore a crimson dress with white shoulder pads and poofy sleeves that opened in the lower half showing white boots with rose accents and dark fuchsia pantaloons. Her rectangular-faceted gem was located in her midsection.
Personality
Pyrope acted in a cheerful yet snobbish manner and had a very high opinion of herself which made sense considering her former status in Homeworld's Empire. According to Hessonite she could be easily distracted to the point of immediately abandoning a task when something else got her attention and could also be oblivious to information that was clear to others. She firmly believed all Gems needed a ruler and were lost without one. However, she could lose her temper which was put on full display when the Crystal Gems directly confronted and defeated her and Demantoid before they were poofed by each other.
History
Over 6,000 years before the present day Pyrope ruled a colony from the Palace of Light but took it offworld when lesser Gems encroached on the Palace's outer reaches and cut off all communications and contact with Homeworld. She was also closely acquainted with Hessonite and later Demantoid.
Pyrope and Demantoid put into action a plan of seizing rulership after being liberated from the Great Diamond Authority. They ignored Steven's orders to liberate colonies and relinquish weapons instead establishing a base at Pyrope's old Palace while simultaneously cutting off all other colonies from Homeworld, banning their Gems from speaking of Era 3 and replacing them with constructs from their Prisms. When Steven and the Crystal Gems came to request an audience she immediately panicked and sent them away without warning. Despite this she appeared on a monitor to interrupt a disguised Hessonite's meeting with the Crystal Gems to her dismay; Hessonite allowed her to drone on before she was sidetracked by messages on another Homeworld channel. She appeared on another monitor to taunt the Crystal Gems and interrupt Hessonite again; when Demantoid came into the conversation she cut her off just before she could be informed of Hessonite's identity.
She was surprised at seeing the Gems in her room proudly boasting about her status to the annoyance of everyone else and expressing irritation at their persistence before engaging them. When Demantoid arrived she was scolded for her pride before Hessonite entered and was shocked after unmasking her. She expressed her outrage at Hessonite's actions and looked on eagerly as Hessonite's Prism George was forced by Demantoid to combine with the other Prisms. After being defeated Pyrope ordered Demantoid to get the Prisms to attack again but was pushed off by her fellow Garnet. When Bismuth took away their Prisms and Demantoid's Limb Enhancers the two argued about how their failure was each other's fault ending with them attacking and poofing each other.
Abilities
Pyrope presumably had standard Gem abilities.
Skillset
Fan Proficiency: Pyrope was able to summon a fan as her weapon. She could use her fan to attack by throwing it like a boomerang and easily poofing other Gems if they were hit with it enough times.

Wind Boost: She could also boost wind waves against opponents and this energy could be concentrated into a larger red whirlwind that crossed all opponents at the same time.
Unique Abilities
Levitation: Pyrope could briefly float in the air with her dress.
Trivia
Her design and fan could be inspired by or may reference the feminine style from the French Baroque era prior to the French Revolution. These features also highlighted Pyrope's position in the hierarchy. Her choice of the baroque-designed Blue Colony 4 also supported this.
She was the only known non-fusion Garnet to not have a unibrow.
| Image | Description |
| --- | --- |
| | Pyrope's gemstone is located in her midsection. It is reddish-pink and rectangular in shape and has facets around the edge similar to Hessonite and Demantoid's gemstones. |
Community content is available under
CC-BY-SA
unless otherwise noted.