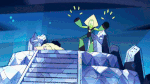 "You have to fix this!"
Pyrope is one of the main antagonists in Unleash the Light. She is one of the holders of the two remaining prisms.
Appearance
Pyrope's build is similar to that of Hessonite and Demantoid with pink skin and a crimson colored hairstyle resembling an afro. She also has white eyebrows. She wears a mainly crimson dress with white shoulder pads and poofy sleeves. It opens in the lower half, showing white boots with rose accents and dark fuchsia pantaloons. Her rectangular faceted gem is located in her midsection.
Personality
Pyrope appears to act in a very cheerful yet snobbish manner. This makes sense, considering her former status in Homeworld's now dismantled empire. According to her fellow Garnet, Hessonite, she can be easily distracted. She firmly believes that Gems need a ruler and that they're lost without one.
History
Unleash the Light
TBA
Abilities
Fan Proficiency: Pyrope is able to summon a fan.

She can use her fan to attack her enemies by throwing it. It deals a lot of damage and easily poofs them.
She can attack her enemies using wind produced by the fan.
Trivia
Her main design and her fan could be inspired or may reference the feminine style from French's Baroque era, prior to the French Revolution. Those features can also highlight Pyrope's position in the former gem hierarchy.
| Image | Description |
| --- | --- |
| | Pyrope's gemstone is located on her midsection. It is red-pink and rectangular in shape, and has facets around the edge, looking similar to Hessonite's gem. |
Community content is available under
CC-BY-SA
unless otherwise noted.