Template:Rainbow Quartz Rainbow Quartz is the fusion of Rose Quartz and Pearl. She made her first appearance in "We Need to Talk".
Appearance
Rainbow Quartz has lilac skin and long, voluminous, wavy, platinum blonde colored hair with pink highlights. Her physicality is somewhat similar to that of Opal, only heavier, curvier and slightly shorter. Rainbow Quartz is slightly taller than Rose Quartz. She has two sets of eyes. The top pair has sky-blue irises, resembling Pearl's, while the bottom pair sports black irises and resembles Rose's. The top set of eyes is also much larger and more prominent, suggesting that Pearl is slightly dominant in this fusion. She has only one pair of arms, and her nose is pointed like Pearl's and wide and upturned like Rose's. Her mouth is similar to Rose Quartz's, but lacks her darkened lips.
Rainbow Quartz wears a sleeveless, full-body leotard with the body colored white, and the leg region colored purple. There is a stylized, four-pointed star, with the left and right sides of the star bent upwards, cut-out on the stomach area of the leotard. Rainbow Quartz also has a loose, sheer, long-sleeved shirt worn over her upper body. Her outfit comprises of no footwear, but instead has long, magenta leg-warmers that cover half of her lower legs and feet.
Trivia
Rainbow Quartz, along with Alexandrite, Sapphire, Stevonnie and Malachite, has yet to summon her weapon.
She is the second fusion shown on the show with four eyes.
Her appearance is drastically similar to the character Danse from the cartoon TV series, Jem and the Holograms.
Rainbow Quartz is the only fusion who has not spoken in the show, with the exception of The Cluster.
Her outfit closely resembles an 80s-90s dancing/workout outfit.
Rainbow Quartz has the ability to stand on the tips of her toes and execute acrobatic reflexes, a trait she gets from her being Pearl's fusion.
She was the first fusion on-screen to unfuse of her own will. Others have been damaged or broken, or have fallen out of sync.
Rainbow Quartz is the sixth Gem named after a type of quartz.
She is the first fusion to fuse in a lyrical song, in this case, "What Can I Do." Other fusions have fused in instrumental songs.
Rainbow Quartz is the first fusion that included Pearl that Steven did not nickname "Giant Woman".
Rainbow Quartz is the first fusion revealed to involve Rose Quartz herself.
She is the third Gem fusion revealed with only two arms.
Rainbow Quartz is the second Gem fusion that hasn't laughed.
Her eyes seem to be expressing the different emotion of each of her parts towards Greg, a loving look for Rose and a cocky/showing off look for Pearl.

The pinkish coloration of her gems could have just been the tinted lighting.
Although Pearl's eyes are bigger than Rose Quartz, it seems that the loving look for Rose Quartz is seen in Pearl's eyes and the cocky/showing off look for Pearl is seen in Rose Quartz's eyes.

Since Steven inherited the Rose Quartz gem, it is very likely that if he and Pearl fused, they would form Rainbow Quartz, but it remains unknown if the fusion would still possess the same appearance. 

It is confirmed by Ian Jones-Quartey on Twitter that Steven will fuse with Pearl later in the second season.
When this occurs, Rainbow Quartz will go from being a full Gem fusion to a three-quarter Gem fusion.

Rainbow Quartz is the first Gem fusion to not have irises.
Gemology
Iris Quartz/Metal-coated crystal
The term "rainbow quartz" can refer to two different types of gemstones:

Iris quartz, sometimes also marketed under the name "rainbow Quartz" or "anandalite", is a quartz crystal displaying internal spectral colors under some of the crystal faces.
Metal-coated quartz, which is artificial, has a metallic rainbow coloration on the surface, and is created by applying a microscopic layer of metal (typically titanium) to a heated quartz crystal via vapor deposition.

Rainbow quartz are associated with hope and optimism.
Quartz gemstones are very durable and hard.
Rainbow quartz is not a traditional birthstone.
Angel aura quartz is actually the technical name for Rainbow Quartz.
| | |
| --- | --- |
| Image | Description |
| | Pearl's gemstone on Rainbow Quartz, featuring a large ring around the middle. It is smooth, without facets. |
| | Rose Quartz's gemstone on Rainbow Quartz, featuring a pentagonal facet. It is a dodecahedron. |
Gallery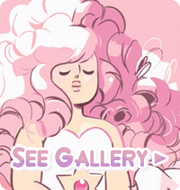 v • e
Fusion Gems
---
Hybrid Fusions
Crystal Gem/Homeworld Gem Fusions