Jurassic World: Dominion Dominates Fandom Wikis - The Loop
Play Sound
Rebecca Rea Sugar is the creator of Steven Universe and Steven Universe Future, as well as the director of Steven Universe: The Movie. She is an artist, composer, and director who is most recognized for her work on the show Adventure Time, another Cartoon Network original series, as well as her award-winning animated short Singles. She has also created a graphic novel, Pug Davis, as well as assisting with characters and backgrounds for Ian Jones-Quartey and Jim Gisriel's web series nockFORCE prior to her career.[1]
In 2012, Cartoon Network green-lit Steven Universe, making her the first solo non-binary cartoon creator in the network's twenty-year history. Rebecca was one of the main storyboard artists on Adventure Time until the fifth season, where she left to create Steven Universe, although she later returned again in 2015 for the Stakes miniseries to compose the song "Everything Stays" and voicing Marceline's mother.[2]
Sugar has also contributed storyboards for the Sony Pictures Animation film Hotel Transylvania.[3]
She is married to Ian Jones-Quartey.[4]
Career
Rebecca was born in Silver Spring, Maryland and attended the Visual Arts Center at Albert Einstein High School and Montgomery Blair High School simultaneously. Later, she would attend the School of Visual Arts in New York.[5] One of her early works, a comic strip entitled "Don't Cry for Me, I'm Already Dead"[6] about brothers who bond over references to The Simpsons, was a viral success.[7] The strip was originally published on Sugar's now-defunct website, SugarBoukas.com, itself a reference to one of her early animated shorts.[8]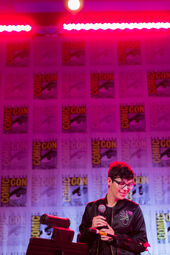 She was hired as a storyboard revisionist during the first season of Adventure Time and was later promoted to storyboard artist from that season on.
Rebecca would eventually leave Adventure Time in early 2013 to launch her new cartoon, Steven Universe. The final episode She worked on for Adventure Time, entitled "Simon and Marcy", was difficult for her, due to her working on the episode alongside launching their new show.[9]
She had achieved numerous awards in her career in television, such as earning nominations for Primetime Emmy Awards and Annie Awards while working for Adventure Time, and being featured in Forbes magazine's "30 Under 30 in Entertainment" list in 2012, noting that she was responsible for some of the best episodes of Adventure Time.[10]
She returned to Adventure Time in 2015 for the Stakes miniseries, voicing Marceline's mother and writing the song "Everything Stays".
Episodes Written and Storyboarded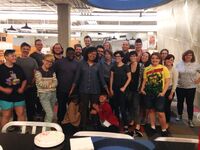 Other
Musical Credits
Songs
Soundtracks
Gallery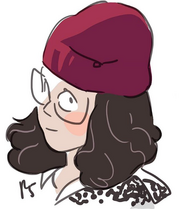 Trivia
External Links
References