Doctor Strange in The Multiverse o Madness - The Loop
Play Sound
Red Eyes are meteor-like devices created by Homeworld to detect the presence of Gems in certain areas. One was sent to Earth and monitored by Peridot in "Laser Light Cannon" to see if any Gems lived on the planet, but was destroyed by the Crystal Gems. In "Gem Heist", a Red Eye is seen hovering outside of Pink Diamond's Zoo.
Appearance
Red Eyes, as their name entails, are massive, red-orange, eye-like devices. As such, they are spherical in shape. A Red Eye has a light orange hexagonal iris with a red-orange, aperture-like "pupil" of the same shape. Its body (or sclera) is orange and is covered by a cream colored segmented covering (or eyelid) that can close and open to protect the eye. It seems to have the same triangular patterns that are shown on the floor of the Gem Warship, meaning that it belongs to the Gem Homeworld. This is confirmed when Peridot states that its purpose was to scout out other Gems on Earth. It seems to be constantly emitting light, or in some cases glowing.
Abilities
By using some anti-gravity drive, a Red Eye can defy the gravitational pull of other objects, allowing it to freely levitate. Its casing is exceptionally durable, as seen when a Red Eye withstood multiple attacks from Amethyst and Garnet without taking any damage, only taking major damage from Rose Quartz's Laser Light Cannon. The aperture-like pupil/iris can open up and create a powerful gravity anomaly, capable of attracting nearby objects of significant mass.
The Red Eye can also detect the presence of Gems and relay that information to other Gems, which appears to be the Red Eye's main, or even only, purpose.
History
A Red Eye threatens Beach City with its potential of colliding with the Earth, which would likely kill all of Beach City's residents. Garnet, Amethyst, and Pearl try multiple times to stop it by throwing Amethyst at it, but find no success in doing so. It is implied that it cannot be destroyed without Rose Quartz's Laser Light Cannon, which Steven finds. He and the Gems use it to destroy the Red Eye, causing it to explode violently.
Fragments of the Red Eye are seen on the boardwalk.
Peridot reveals that the Red Eye was a scout sent to Earth, presumably to ascertain as to whether or not there were Gems present on the planet. Having not received a positive report of Gem presence from the Red Eye, Peridot is shocked to discover the Crystal Gems on Earth and that she was acting on null data.
A Red Eye is seen next to Pink Diamond's Zoo, possibly to notify Holly Blue of other Gems approaching the facility.
Trivia
Gallery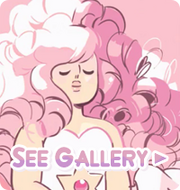 References