Jurassic World: Dominion Dominates Fandom Wikis - The Loop
Play Sound
"

I can't tell you, Amethyst! You have to figure this out for yourself!

"
—Garnet
"Reformed" is the 5th episode of the second season of Steven Universe, and the 57th episode overall.
Official Synopsis
Steven, Amethyst, and Garnet chase after a monster that's been loose in the Temple.[2]
Plot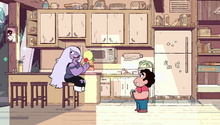 The episode begins with Steven taking a "Crying Breakfast Friends!" personality quiz. After discovering he is "Sniffling Croissant", he looks for Pearl and Greg, who are working on Greg's Van, so he can ask them to take the quiz too. Steven tries to convince them by describing the quiz and giving examples, which just so happen to match up with Greg and Pearl's personalities. After they decline, Steven goes inside the Beach House to find Amethyst making herself a huge sandwich. Amethyst asks Steven for some engine oil to put on it, and Steven tells her it is possibly outside with Greg's van. Steven then wants to quiz Amethyst on which "Crying Breakfast Friends!" character she is, but she gives him false answers. Amethyst feigns getting bored after being troubled by questions of her insecurity and self-confidence and heads toward the temple with a desperate Steven on her heels to find Garnet inside Amethyst's room. Amethyst, being curious and slightly irritated, asks why Garnet is in her room. Garnet replies by saying that she saw a corrupted Gem in Amethyst's room. Garnet claims it is similar to the thing Pearl described seeing on the loose in her room.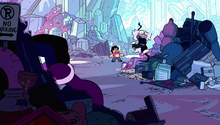 Garnet, Amethyst, and Steven go to chase the corrupted Chrysocolla, which Steven dubbed "The Slinker", around the temple. Steven tries to ask Amethyst questions for the personality quiz during the search, but Amethyst becomes defensive when asked personal questions regarding hidden feelings. Garnet spots the Gem and attacks but she misses and messes up Amethyst's "organization". Amethyst is upset at Garnet for "wrecking" her stuff, but before she can finish her sentence, she is grabbed by Chrysocolla.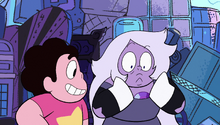 Chrysocolla squeezes her tightly like a snake, and Amethyst is forced to retreat into her gem, which alarms Steven. Amethyst has been "poofed", and Steven immediately begins to panic and miss her, because when Pearl was poofed, she took "two whole weeks to come back!" Garnet comforts him by saying that Amethyst would be back before he knew it. Seconds later, Amethyst regenerates in a form in which legs have replaced her arms, along with her regular set of legs. Although Steven is amused, Garnet is displeased by this, saying that her regeneration was fast even for Amethyst. Amethyst blows off Garnet and cartwheels away on her 4 feet, continuing the search.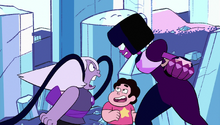 After a while, they find another tunnel made by Chrysocolla. When Steven comments on Amethyst's new form, saying he wished he had four legs too, Garnet notes that Pearl took her time and came out better. This makes Amethyst mad, and when she stops to convey her distaste for Pearl, she is crushed again by Chrysocolla, causing her to retreat into her gem a second time. Garnet comforts Steven and tells him that at least now Amethyst will get a second chance to regenerate into a new form, hoping that she will take it more seriously this time. However, Amethyst comes back quicker than the first time, with a form resembling an exaggerated parody of Pearl. Garnet expresses her distaste again, saying that it wasn't funny. The Gems resume their search for the monster while Amethyst continues to poke fun at Pearl. Soon, she and Garnet get into an argument about how her form affects the strength of the team, but they are interrupted when Amethyst is grabbed yet again by Chrysocolla and she forces her back into her gem for the third time. Still angry at Garnet for what she interpreted as Garnet calling her weak, Amethyst regenerates into a "stronger" form: an uneven body with bulging muscles on one arm and one leg. Steven expresses concern for Amethyst's health, and Garnet tells Amethyst that her form isn't sustainable. Angered, Amethyst runs away to find Chrysocolla herself.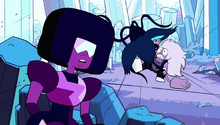 Garnet and Steven soon catch up to her and she is seen embroiled in a battle with Chrysocolla. As she intervenes and struggles to defeat the Gem, Garnet tells her to let go, but Amethyst refuses, insisting that Garnet "wanted [her] to be stronger". Garnet tells her that she didn't want this. Unable to maintain her unstable new form, Amethyst's left arm loses its strength and falls to the floor distorted. Amethyst then asks Garnet to tell her what she wants from her, but Garnet tells her that she has to figure it out for herself, and this response frustrates Amethyst even more. Steven makes the observation that Amethyst can't figure it out because she is upset and doesn't want to think about herself. Amethyst is startled by his comment, and in her surprised state, she is engulfed by the Gem, retreating to her gem one last time. Garnet punches Chrysocolla, forcing her to release Amethyst's gem from her mouth, and they retreat to the Beach House with Amethyst's gem, intending to find and continue fighting the Gem after she regenerates.
Instead of immediately regenerating, Amethyst remains in her gem for four hours, which Pearl notes is the longest she's ever taken. When Amethyst finally does regenerate, it is shown that she put more thought into her regeneration and has no abnormalities. The other Gems are very supportive of her new form and compliment her on it, Pearl saying that she likes it much better now that the shoulder strap that was bothering her is gone. Garnet says it's perfect, but Amethyst brushes the compliment off and claims that it's "just what feels right". Garnet says that was what makes it perfect and they all have a group hug, which Amethyst, though pretending not to, secretly enjoys, and the star iris focuses on her face before closing.
Features
Characters
Objects
Gas Mask
Human Skull
Fione Summer special book
Locations
Music
Instrumental Songs
Trivia
In honor of the episode, the Crewniverse shared "Grape Popsicle Amethysts Gemstones" (prepared by Christy Cohen).[3]

The Crying Breakfast Friends! characters that appear in the episode are correlated to the Crystal Gems and Greg. Steven indirectly describes both Pearl's and Greg's characteristics through Weeping Egg Cup and Pining Grapefruit, respectively. Afterward, he directly describes Garnet through Spilled Milk.
It is currently unknown when the first encounter with Chrysocolla occurred, as there have been no prior nor later episodes on the subject.
The hiatus was announced on the official Crewniverse Tumblr on April 30 after "Reformed" aired.
When Amethyst rushes her "Pearl" regeneration, a variation of Pearl's Theme plays.
Cultural References
Continuity
Amethyst is shown to have kept the fashion magazine from "Beach Party", as it appears in her room.
Steven recalls the events of "Steven the Sword Fighter".
During Amethyst's final regeneration, several different (assumed previous regenerations) silhouettes of Amethyst can be seen, similar to how several of Pearl's previous forms can be seen in "Steven the Sword Fighter".
Errors
In the beginning, when Steven enters, a light switch is on the wall to his right. In the next scene, it isn't there, but in the scene after that, the light switch is there. However, it's more to the right than before, when it was in the middle of the wall.
When Steven is talking to Amethyst about her new form (with the extra legs), her pant sleeve and the shoulder strap on her right shoulder are missing. In the next scene, they are back.
The second time Amethyst gets poofed, it is from above, and Garnet and Steven look down, but there's no hole above them.
In one scene, Amethyst's gemstone has the same cut as Steven's gemstone, a pentagon, while she was imitating Pearl.
When Amethyst is in her final form, even though the cut in her pants is patched at first, the cut is back in her pants when she hops off the table.
In the scene where Amethyst says it was her monster, so she'll deal with it, the bases of Garnet's gauntlets are black instead of orange.
When Amethyst is reforming to her most recent form, her gem is turned to a different angle.
Transcript
View the episode's transcript here.
Gallery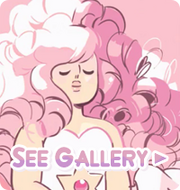 Video
References