"

This is our home! Our planet! Our friends and family! We are the Crystal Gems!

"
—Steven
"Reunited" is a 22-minute special episode. It takes up the production slots of the the 23rd and 24th episodes of the fifth season of Steven Universe, and the 151st and 152nd episodes overall. It is the final episode of the seventh StevenBomb.
Official Synopsis
Steven brings everyone together for a special reunion.[2]
Plot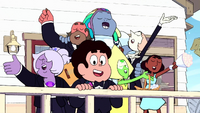 The episode starts off with Steven singing "
Let's Only Think About Love
". Through this song, Steven expresses that the
Crystal Gems
continue to be plagued by painful emotions regarding the renewed threat of
Homeworld
and
the Cluster
,
Lapis Lazuli's
departure (in
Peridot's
case), and the tremendously startling revelation that
Rose Quartz
had been
Pink Diamond
all along. Though no one has truly gotten used to the dramatic turns their lives have recently taken, Steven encourages them to focus all their efforts into making the wedding day of
Ruby
and
Sapphire
a genuine celebration of love. He goes around helping everyone get ready for the wedding, which is held on the beach in front of the Temple, attended by the Crystal Gems and the humans of Beach City. After Steven makes his opening speech, Ruby and Sapphire say their vows. Ruby declares how happy she is being herself alongside Sapphire, and her determination not to let anyone come between them. Sapphire explains how Ruby saved her from her destiny and opened up new possibilities. They kiss and fuse back into
Garnet
.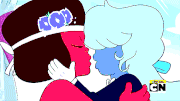 During the reception, Steven begins crying, at first believing it to be due to his emotions and later realizing it is the presence of Blue Diamond. The Diamonds come in their arm-ships and attack the ground above the Cluster, aiming to awaken it. Despite Steven's attempt to calm the Cluster telepathically while sleeping, the Cluster is unbubbled and takes the form of a giant arm above ground. However, it remains in control of itself and attacks Yellow Diamond's ship before giving Steven a giant thumbs-up.
Meanwhile, Blue alights on the beach and is unswayed by Steven's attempts to talk to her. She attacks and subdues everyone with her aura of sadness except Connie and Lion (who are not Gems and are unaffected). Connie attacks Blue Diamond but Blue catches and snaps her sword, recognising it as Rose Quartz's. Garnet marches forward despite the emotional assault and is able to distract Blue long enough for Lapis Lazuli, who has returned from the Moon, to slam the Barn onto Blue.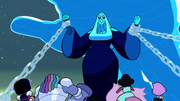 Lapis officially joins the Crystal Gems; Peridot and Steven are overjoyed to see her. Blue recovers and restores her aura, but it has little effect on Lapis who has "felt worse". Lapis restrains Blue with water chains (much as she did Malachite from within) and disables her aura again, allowing the assembled Crystal Gems to attack together and bring Blue to her knees.  Yellow Diamond's ship is disabled in the struggle with the Cluster and thrown onto Blue's, which in turn falls on top of Blue (and the front of Steven's house). The Cluster, exhausted and glitching, retreats into its bubble.  Unfortunately, the Diamonds regroup: Yellow Diamond exits her ship and frees Blue from the wreckage. Peridot taunts Yellow asking if the Diamond remembers her; Yellow scornfully denies it and instantly poofs Peridot with her lightning attack. As Steven tries to explain to the Diamonds, Yellow runs up and stomps him into the ground, knocking Steven unconscious.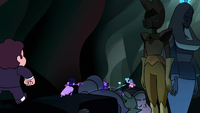 Steven awakens outside his body on an abstract psychic plane. He realizes that while disembodied he can interact with people's thoughts, and watches as Lapis is also poofed. After giving his friends encouragement he attempts to contact the Diamonds, but still believing him to be an enemy, they attack him psychically. Steven resists and is able to create Pink Diamond's aura, which convinces the Diamonds that she is still alive.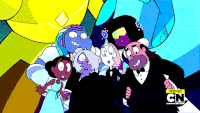 Steven reawakens with the Crystal Gems, including
Greg
and except for Peridot and Lapis, and the Diamonds standing over him in surprise, as Blue expresses in tears, "It's you... Pink!"
Features
Characters
Locations
Objects
Music
Songs
Instrumental Songs
Trivia
Cultural References
Continuity
Errors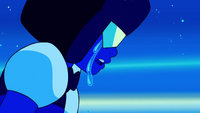 Transcript
View the episode's transcript here.
Gallery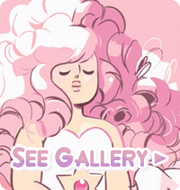 Videos
References