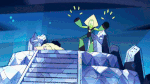 "You have to fix this!"
Rhodonite is the fusion of a Ruby and a Pearl that made her debut in "Off Colors". She used to belong to a Morganite, but she was replaced after it was discovered that she liked to fuse. She currently resides in an underground Kindergarten on Homeworld with the other "off color" Gems.
Appearance
Rhodonite has an appearance similar to Garnet the first time she fused. She has reddish purple skin, four eyes, a long point nose that is slightly up turned, and Afro like black and pink hair. She also has four arms; the top pair are thick and muscular, and the bottom pair are on her waist, similar to Sardonyx and they are skinny. She wears a black and mauve top with a diamond shaped cutout to reveal one of her Gems, black gloves on her bottom pair of arms, mauve leggings, with one side having a short leg and the other covering her entire leg and foot, and a black flat shoe on one foot and a mauve boot on the other. She also wears a transparent shawl over the gem on her chest.
Personality
She stresses out a lot and is easily frightened.
History
Rhondonite makes her first appearence in "Off Colors." As the Rutile Twins were taking Steven and Lars to an underground Kindergarten, she appears, along with Padparadscha Sapphire, and Fluorite.
TBA
Relationships
TBA
TBA
TBA
TBA
TBA
Abilities
Presumably, Rhodonite possesses standard Gem abilities and traits.
Episode Appearances
TBA
Trivia
TBA
Gemology
TBA
TBA
Galleries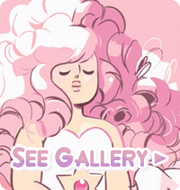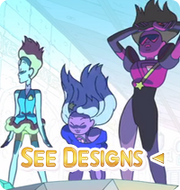 References
v • e
Fusion Gems
---
Hybrid Fusions
Crystal Gem/Homeworld Gem Fusions

Community content is available under
CC-BY-SA
unless otherwise noted.