Ringo is one of the characters that was created by Steven's imagination in "Garnet's Universe" when he was telling Garnet his story about what he thought she did with her day.
Personality
Ringo deceives others to achieve personal desires. When he is in power, he finds delights in destroying his enemies and their property by turning them into onion rings.
Appearance
Ringo's hair is styled in a ring, similar to an onion ring. He wears a burgundy kimono, brown shorts, a white apron, black boots, and rectangular gray rimmed glasses. Ringo resembles Ronaldo in general appearance.
The placement of the gem in his hair loop triggers his transformation. Ringo becomes bigger and more muscular. He retains his glasses and brown shorts, but his kimono disappears. He transforms the apron into a tattered cape that wraps around his neck; it is tied at his waist with a ribbon. His black boots acquire a burgundy trim, and he carries a magical, red staff decorated with three gold rings.
He wears white fundoshi-style underpants.
History
In "Garnet's Universe", an unconscious Ringo falls out a tree in front of Garnet, Hopper, and Hoppy. After Garnet "revives" him, he tricks them into believing that he was the guardian of an ancient shrine and that Foxman stole the shrine's gem and used its powers to banish him, pleading with them to help him get it back. The four travel to the shrine and Garnet battles Foxman, only to lose due to his incredible power. Garnet trains and returns to battle Foxman, successfully defeating him, only for him to reveal that he was the actual protector of the shrine, and Ringo was the one trying to steal the gem. In the commotion, Ringo steals the gem and transforms into Ultimate Ringo, turns Foxman into an onion ring, and transports Garnet, Hopper, and Hoppy to the Ringo Zone. After a long and fierce battle, Garnet manages to defeat Ultimate Ringo out of her love for Steven. Garnet takes the gem back from Ringo and leaves him trapped in the Ringo Zone.
Trivia
Ringo is voiced by Zachary Steel, who also voices Ronaldo. As onion rings can be seen as an alternative to fries, Ringo, who is largely related to onion rings, can be a counterpart to Ronaldo, who is largely related to fries. This association is further supported by their physical resemblance.
Gallery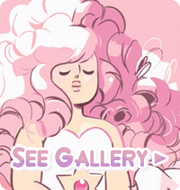 Community content is available under
CC-BY-SA
unless otherwise noted.