Template:Ronaldo Fryman "Ronaldo Fryman" is a minor character in Steven Universe. He first appears in "Frybo", as a cameo, and has his first speaking role in "Cat Fingers". He is Peedee's older brother and Mr. Fryman's son. He works the deep fryer at Beach Citywalk Fries.
Appearance
Ronaldo is moderately tall, has a thick build, and complexion similar to that of Steven. Like the other members of the Fryman family, he has long, blond, "fry-like" hair. His hair resembles curly fries. At work, he wears an apron. Underneath this, he wears a burgundy collared shirt that he leaves untucked and tan cargo shorts that reach his knees.
Additionally, he wears wrap-around sandals and glasses. In "Steven's Lion", he wore a white shirt under his burgundy one which has a lot of colorful badges buttoned in his undershirt, written "KBCW" (Keep Beach City Weird). He also wore a brown fedora with silver and black headphones in the same episode.
He has also been shown wearing a dark red top with flames at the bottom. In "Keep Beach City Weird," he wore a navy-green cap, a navy-green short tahari coat, digital camouflage sweater, and black gloves and boots.
History
Ronaldo made several smaller appearances around town and at the Beach Citywalk Fries shop. He eventually got his own episode "Keep Beach City Weird" which explored his character in further detail.
His next big appearance was "Horror Club" in which he hosted a Halloween horror movie marathon.
His latest major role was in "Rising Tides, Crashing Skies" in which he made an amateur documentary about the Crystal Gems for his blog.
Personality
Ronaldo is a good-natured, highly excitable teenager, especially when dealing with supernatural phenomena and secret activities, like Beach City Underground Wrestling. He keeps a blog about such things called Keep Beach City Weird. He is always interested when Steven has something unusual to show people. He readily believes in things with little to no supporting evidence, such as in "Steven's Lion", when he assumed Steven's magical lion was invisible instead of nonexistent, and he momentarily believed Steven was pregnant.
Ronaldo is prone to being overly-enthusiastic in his research endeavors. He is always eager to share his findings with his friends, followers, and really anyone who will listen. He reveals his deepest findings with Steven the moment he asks permission to join him. It's revealed in "Keep Beach City Weird" that while he finds Steven and the Crystal Gems cool, his greatest interest is in uncovering conspiracies and revealing the hidden truth. Pearl inadvertently suggests that this may be done out of a desire to feel more significant than he really is, and Ronaldo's reaction when his findings turn out to be unrelated seems to confirm this. He routinely asks his younger, more responsible brother Peedee to cover for him at work when he believes he's found a new lead.
Relationships
Ronaldo usually gets along very well with Steven, and vice-versa. While Ronaldo tends to fool himself into thinking that he lives in a weirder and more mysterious world than he actually is, Steven does live in such a world - and this gives the two a kind of odd connection.
However, despite this he has been shown to be quick to turn on Steven such as in "Rising Tides, Crashing Skies" where he seemingly didn't mind that forcing the Crystal Gems to leave Beach City would mean he would force Steven to leave as well.
Like with Steven, Ronaldo usually gets along well with the other members of the Crystal Gems - this is due to them being the largest source of "weird" in Beach City (if not the only source). However, this means that they usually get involved in his conspiracy-fueled antics whether they want it or not such as when they had to rescue Steven from a paranoid Ronaldo in "Keep Beach City Weird" or when he tried to drive them out of town in "Rising Tides, Crashing Skies".
The latter episode reveals a new twist in their relationship: while the events of "The Return" and "Jail Break" terrified Ronaldo to the point where he went so far as to create a documentary online to "expose" the Crystal Gems and drive them out of town. After he was apparently successful in his endeavor (which was all a ruse by Garnet to have him stop bothering them) he came to the horrible realization that if the Gems left, there would be nothing "weird" left for him to blog about.As such he rushed to the Beach House and begged them to stay instead.
When Ronaldo and Lars were kids, they were friends. They both decided that the Beach City lighthouse would be the perfect place for the "Beach City Explorer Club" to be located. One day, Lars carved his name into the wall, to mark the place as theirs. The possessed wall struck Lars in retaliation, and Ronaldo took a picture.
Seeing the opportunity to report this paranormal event, Ronaldo suggested they put the image on TV for the world to see. Embarrassed, Lars ripped himself out of the picture; effectively ruining the photo and its evidence. This devastated Ronaldo, since that was the one chance for the "Beach City Explorer Club" to become known.
Lars tried to explain that his reason to rip the paper was because he couldn't have anyone see it. A heated argument between Lars and Ronaldo followed. The argument ended with Lars leaving the Lighthouse, marking the end of their friendship.
Steven convinces Sadie to go with him to Ronaldo's horror movie showing in "Horror Club". While Sadie seems to recognize Ronaldo as "Steven's friend," they don't seem to have known each other any deeper prior to the episode. The two get along very well, much to Lars' annoyance, to the point where he gets visibly jealous of Ronaldo.
Ronaldo and Peedee share a typical older brother, younger brother relationship with a twist; Peedee is much more mature and responsible than his older brother. While Ronaldo's apparently lack of maturity and responsibility annoys Peedee, he is deeply concerned about him when Ronaldo gets "broken" in "Keep Beach City Weird". He also helps him out as a camera man in "Rising Tides, Crashing Skies".
Like Peedee, Ronaldo's father finds his irresponsible and goofy nature annoying at best, and aggravating at worst. However, despite this, they seem to be able to maintain a fully-functional father-son relationship with each other.
Episode Appearances
Trivia
His blog exists in real life and is lead by the show's staff. Keep Beach City Weird on Tumblr
In the original main intro, Ronaldo is seen looking over his reports.
According to his blog, the fridge once fell on him.[1]
Ronaldo once pursued Garnet in the comics, determined that she was a model in one of the old Fashion Magazines he had found, looking much like her but with let-down hair and slightly different apparel.
He puts Old Bay seasoning on as many foods as he can.[2]
He uses Bitcoin.[3]
He is part of a community similar to "Furries" called "Planties", where he dresses up as a Ficus. [4]
According to his blog, he has or had a tattoo. He listed it as one of his top 5 regrets.[6]
He is an activist against the use of glow sticks, stating that they are filled with ghost blood[8].
The only kind of Jazz Ronaldo appreciates comes from Korea[9].
Ronaldo is a fan of the No Home Boys series but, unlike Steven, does not dislike the No Home Boys Graphic Novel Adaptation, giving it a C+ on his blog[10].
It is revealed in "Horror Club" that he used to be childhood friends with Lars.

He was also unaware that Steven was friends with Lars and blamed him for the "haunting" of the lighthouse. Ronaldo stated the spirit should have taken him instead of Sadie.

In the comics, Ronaldo and his brother Peedee form a musical duo called "Frying Saucer Landing". They both play Theremin.
His dad says that he can't take care of himself. This is probably because he is quite easily distracted by his interests, rather than what others, like his father, wish him to focus on, and because of his tendency to believe things that others find outlandish.
On Ronaldo's blog Keep Beach City Weird, he rants about a crossover between the Crying Breakfast Friends! and Interdimensional Family Friend. Using this as a fictional example of the real Steven Universe - Uncle Grandpa crossover, Ronaldo's reactions match many of those of the community including skepticism at the announcement and events within the episode. The Interdimensional Family Friend character is a reference to Uncle Grandpa, the uncle and grandpa of everyone on Earth.[11]  
After the events of "Love Letters" Ronaldo mentions on his blog "Keep Beach City Weird", that he received a wet letter (unbeknownst to Ronaldo, Jamie's fault). The contents of the letter reveal that the writer reads "Keep Beach City Weird" every week, and finds something or someone, possibly Ronaldo or his blog (unknown due to the letter's wetness) to be the "CUTEST [...] EVER!" In addition, the writer has knowledge of the Loch Ness Bloggster costume, and so was probably present at the Beach City Underground Wrestling tournament that took place in "Tiger Millionaire". While most of the letter is soaked beyond recognition, some key words and phrases stand alone such as "MURDER" and "KILL SOMEONE". [12]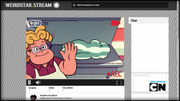 As revealed in "Watermelon Steven", Ronaldo also has a webcast on weirdstar.stream in addition to his blog. His username is "KeepBeachCityWeird".
Ronaldo spent 36 hours straight producing his websclusive documentary about the Crystal Gems.[13]

File:Full Disclosure (41).png

In "Full Disclosure", Ronaldo is seen dragging a piece of the wrecked Gem Warship away, most likely for examination.
According to Matt Burnett, Lars, Sadie, Ronaldo and the Cool Kids are a mix of various ages, ranging from early teens to young adult.[14]
Gallery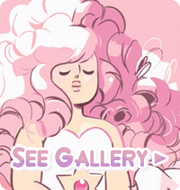 References
Community content is available under
CC-BY-SA
unless otherwise noted.