Doctor Strange in The Multiverse o Madness - The Loop
Play Sound
"

This is like, so chill.

"
—"Rose Buds"
Click
here
to see more of "Hippie" Rose Quartz's quotes.
"Hippie" Rose Quartz is a Rose Quartz soldier who first appears in the episode "Rose Buds". Much like the other Rose Quartz Gems bubbled within the zoo, she was freed upon the breakdown of Era 2 and now resides within the zoo with her fellow Rose Quartzes.
Appearance
She has a tall and bulky figure, just like the majority of the other Quartz Gems. She has salmon pink skin, plump lips similar to Amethyst's with a delicate pink "lipstick" that is similar to those of Pink Diamond. She has black eyes, thick black eyebrows, a nose similar to Steven's, pale pink long, wild and messy hair that looks like Jasper's. Her gem is located on her upper chest.
She wears a burgundy low-cut top with a pink inverted triangle at the neckline, shorts the same color as the top, and a dark magenta band at the waist. She is also barefoot.
Personality
This Rose Quartz appears to have a more relaxed personality and was also excited to hang around with Steven while on Earth. She speaks in a laidback tone, using real-world 1980s slang such as "bummer". She can also show the personality of an apathetic teenager when she says that what Rose did to her and the others is "whatever".
History
"Hippie" Rose Quartz was one of the Rose Quartzes created by Pink Diamond during her colonization of Earth. Eventually, she and every other Rose Quartz were bubbled simply for their Gem type.
"Hippie" Rose Quartz's bubbled gemstone appears on display inside Pink Diamond's Zoo. Blue Diamond wishes to preserve her and the other Rose Quartzes to honor Pink's legacy as she created them, though Yellow Diamond wants to have them all shattered.
Following the initiation of Era 3, all of the Rose Quartzes get released from their bubbles and live a happy life in the Zoo. "Hippie" Rose Quartz, in particular, wishes to see Steven Universe himself. Though he and Amethyst express discomfort towards her resemblance towards Rose/Pink, she, "Shy" Rose Quartz, and "Superfan" Rose Quartz wish to spend time at his Beach House.
At the dinner table, the three Roses make Garnet, Pearl, and Greg (the latter two having been in love with Rose Quartz) uncomfortable due to acting and looking like Rose, with "Hippie" Rose Quartz even saying she would like a Pearl just like Pearl and offering to give Garnet a shoulder massage. Ultimately, Steven makes the trio think he wants them to live with him permanently, but after Steven continues to show discomfort around them, they come to believe he hates them. Disappointed, they prepare to warp back to the Zoo.
However, Steven makes them understand it isn't that he doesn't want them around, it's that they look so much like his mother. "Shy" Rose Quartz explains to him how his mom created them and got them all bubbled, and he is able to connect with them due to them being troubled by Pink's actions, just like him. They all make amends, and Steven comes to view the Rose Quartzes as his siblings because his mother created them. The trio agrees to not live in the Beach House but are welcome to visit anytime.
Abilities
"Hippie" Rose Quartz possesses standard Gem abilities, including bubbling, regeneration, and superhuman durability.
Episode Appearances
Relationships
She and the other Rose Quartzes form a quick friendship with Steven, being extremely friendly towards him and even desiring to live with him at one point. At the end of the episode when she along with the two other Roses open up about their true feelings of pretending to be fine when they're not, they end up forming a sibling-like relationship with Steven.
Although there isn't much direct interaction between the three, it does seem as if they're close friends as she, "Shy", and "Superfan" form a group together.
Trivia
She is one of the first-ever Rose Quartzes seen aside from Pink Diamond's alias Rose Quartz.
| Image | Description |
| --- | --- |
| | "Hippie" Rose Quartz's gemstone is located on her chest. It is a circular gemstone with a pentagonal facet. |
Galleries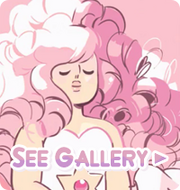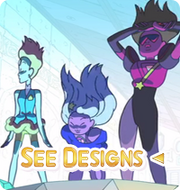 References