Doctor Strange in The Multiverse o Madness - The Loop
Play Sound
"

It's not whatever. I don't expect you to understand. I swore I wouldn't talk about this.

"
—"Rose Buds"
Click
here
to see more of "Shy" Rose Quartz's quotes.
"Shy" Rose Quartz is a Rose Quartz soldier who first appears in the episode "Rose Buds". Much like the other Rose Quartz Gems bubbled within Pink Diamond's Zoo, she was freed upon the breakdown of Era 2 and now resides within the zoo with her fellow Rose Quartzes.
Appearance
Unlike the other two Rose Quartzes, she looks almost exactly like the former leader of the Crystal Gems, the only difference being her skin color, which is slightly pinker compared to Rose Quartz's more human-like skin tone. She wears an outfit similar to the uniform worn by Quartz soldiers under Homeworld's rule, most notably similar to the first outfit worn by Pink Diamond's rose quartz disguise, seen in "Now We're Only Falling Apart"; only, there is a large pink triangle where a pink diamond would be.
Personality
As her name suggests, "Shy" Rose Quartz is much more reserved and quiet than the two other Roses. She appears to be more considerate and mature than the other Rose Quartzes, realizing how uncomfortable Steven is with the idea of her and the other Rose Quartzes are living with him, as well as relating to him over Pink Diamond.
History
"Shy" Rose Quartz was one of the Rose Quartzes created by Pink Diamond during her colonization of Earth. Eventually, she and every other Rose Quartz were bubbled simply for their Gem type. It is unknown who bubbled her, though the pink coloring of the bubbles they were in suggests it may have been Pink Diamond herself.
"Shy" Rose Quartz's bubbled gemstone appears on display inside Pink Diamond's Zoo. Blue Diamond wishes to preserve her and the other Rose Quartzes to honor Pink's legacy as she created them, though Yellow Diamond wants to have them all shattered.
Following the initiation of Era 3, all of the Rose Quartzes get released from their bubbles and live a happy life in the Zoo. "Shy" Rose Quartz, in particular, wishes to see Steven Universe himself. Though he and Amethyst express discomfort towards her resemblance towards Rose/Pink, she, Hippie Rose Quartz, and Superfan Rose Quartz wish to spend time at his Beach House.
At the dinner table, the three Roses make Garnet, Pearl, and Greg (the latter two having been in love with Rose/Pink) uncomfortable due to acting and looking like Rose, to the point where Garnet and Pearl claim they need to go to the bathroom simply to get away from them. Ultimately, Steven makes the trio think he wants them to live with him permanently, but after Steven continues to show discomfort around them, they come to believe he hates them. Disappointed, they prepare to warp back to the Zoo.
However, Steven makes them understand it isn't that he doesn't want them around, it's that they look so much like his mother. "Shy" Rose Quartz explains to him how his mom created them and got them all bubbled, and he is able to connect with them due to them being troubled by Pink's actions, just like him. They all make amends, and Steven comes to view the Rose Quartzes as his siblings because his mother created them. The trio agrees to not live in the Beach House but are welcome to visit anytime.
Abilities
"Shy" Rose Quartz possesses standard Gem abilities, including bubbling, regeneration, and superhuman durability.
Episode Appearances
Relationships
"

Thanks, Steven.

"
—"Shy" Rose Quartz, "Rose Buds"
She and the other Rose Quartzes form a quick friendship with Steven, being extremely friendly towards him and even desiring to live with him at one point. "Shy" Rose Quartz is also the first to notice Steven's uncomfortableness and empathize with him.
"Shy" Rose Quartz's relationship with them is not very clear, though it can be assumed they are close friends as they form a group together.
"

Your mom created us, too. And got us all bubbled just for being Rose Quartzes.

"
—"Shy" Rose Quartz, "Rose Buds"
Pink Diamond was her creator and superior. "Shy" Rose Quartz seems to resent the fact that Pink got her and the other Rose Quartzes bubbled.
Trivia
She is one of the first-ever Rose Quartzes seen aside from Pink Diamond's alias Rose Quartz. 

She is the first genuine Rose Quartz to be seen in the series.

She bears a close resemblance to Pink Diamond's original Quartz disguise.

She is the only Rose Quartz in the episode "Rose Buds" to be seen with curly hair. All others, even among the crowd seen on the Zoo Ship, have straight or wavy hair more similar to Amethyst's. In "Back to the Kindergarten", Peridot explained that curly hair (specifically 8XJ's) is a result of high iron content in the rock where a Gem was incubated.
| Image | Description |
| --- | --- |
| | "Shy" Rose Quartz's gemstone is located on her navel. It is a circular gemstone with a pentagonal facet. |
Galleries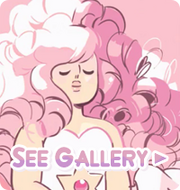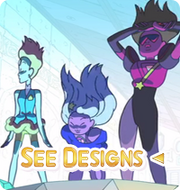 References