This article is about the Homeworld Gem. You may be looking for another Ruby.
Click
here
to see more of Ruby (Eyeball)'s quotes.
Ruby (specifically Ruby-1F4 Cut-4ND), nicknamed Eyeball by Steven, is a Homeworld Gem who made her debut in "Barn Mates". She and the other Ruby troops were sent to Earth by Yellow Diamond to locate Jasper. She is currently floating in space after being pushed away by Steven.
Appearance
Her outfit consists of the regular Homeworld uniform. She has the lightest complexion among the Ruby troops. Her gemstone replaces her left eye.
Personality
She seems to be the most invested in the mission to track Jasper and is the most stoic, barely saying anything, and even anxious. She initially appears to be very intimidating, but she reveals to be quite polite when she thanks the Crystal Gems for their cooperation. Despite having a tough exterior, upon meeting her hero Jasper (really a disguised Amethyst) she was struck in awe and showed an almost fan girl-like zeal. She also seems to be the most intelligent of the Rubies, even over her own captain, being the only Ruby to remember the location of the diamond base on the moon and explaining the history of the moon base and Pink Diamond. Like the other Rubies, Eyeball lacks intelligence. This fact is revealed in "Hit The Diamond" when the Rubies couldn't figure out that there was an extra Ruby.
History
Eyeball and the other Rubies descend upon Earth looking for Jasper. Upon discovering the barn, they are tricked by Ruby and Steven that only humans live there. They are then told that they can only search the barn if they beat them at baseball. After learning the Crystal Gems were in fact Gems, Eyeball among with the other members of her squad fuse together and ask where Jasper is. Upon being told Jasper was on Neptune by Steven, they defuse, and Eyeball thanks them.
The rubies return to the barn, incredibly irate about being tricked about Jasper's location. When questioned by the Crystal Gems, Eyeball refuses to reveal any information. After much badgering about the subject, Amethyst shape-shifts into Jasper's appearance which the Rubies all believe. It is Eyeball who greets her first, reveals her serial number, as well as that she originally fought for the war on Earth. She also revealed to be a long time admirer of Jasper's military accomplishments. On the Rubies' ship, while Amethyst as Jasper talks to Doc, another Ruby, Eyeball is visibly jealous, She believed the ruse all the way up until they went to the moon base, even feeling flattered that Jasper gave her an important mission, but ultimately she and the other rubies caught her undisguised. They then attempt to fuse into their quintuple Ruby form, but were almost instantly dispatched when Sardonyx knocked them out the airlock that Steven opened. Before flying away, Eyeball pulls Steven out the airlock with her into the vacuum of space.
Eyeball managed to hang on to Steven's bubble as they drifted through space. After a heated argument, Eyeball told Steven that she initially could not believe that the Crystal Gems still existed but grew to realize that it was true if the situation included Jasper and Rose Quartz. Steven tried to explain to Eyeball that he was the offspring of Rose and he inherited her gemstone. He showed her his gem and his shield but Eyeball did not believe him. A meteor shower occurred, which resulted in the crack of Eyeball's gemstone. Steven pulled her inside of his bubble and healed her, causing Eyeball to finally believe he was Rose after all. Eyeball then decided to attack Steven because Rose had betrayed Homeworld and shattered Pink Diamond. Eyeball also hoped of being rewarded back on Homeworld, possibly with her own Pearl. This forced Steven to eject her from his bubble and send Eyeball spinning through space.
Abilities
Chisel: In "Bubbled", Eyeball is seen to have a Tantō as a weapon.
Photokinesis: In Back to the Moon, she is shown projecting light from her gem.
Episode appearances
Trivia
Ruby is the oldest of the five-Ruby squad, dating back to the rebellion. She even fought in the Gem War.
In "Back to the Moon", it is revealed that Ruby witnessed the shattering of Pink Diamond, a former member of the Diamond Authority.
Ruby has a desire have her own Pearl and be remembered in gem history as evidenced when she tried to poof Steven thinking he was Rose.
Gemology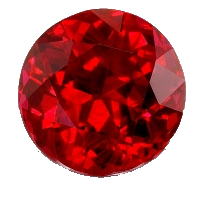 Gemstone Information
Rubies are composed of a material known as corundum, the second hardest crystal structure after diamond (9,10 on the Mohs Scale of Hardness).

Since Ruby is a member of the corundum group, it is closely related to sapphire and thus shares some properties with it, such as hardness, composition, and double refraction.
In its pure form, corundum is colorless.
Rubies are the most expensive colored stone, going by carat.[1]

The word "ruby" comes from the Latin 'ruber' meaning red and, like many other gemstones, the ruby's symbolic meaning is heavily dependent on its coloring.
Natural Ruby is one of four "precious" gemstones (including diamond, emerald, and sapphire), known for its rarity, monetary value, and hardness (second only to diamond).

Natural Ruby can be distinguished from synthetic ruby by its inclusions; natural ruby typically exhibits inclusions, whereas synthetic ruby tends to be eye clean.

The color of ruby is its most important quality factor. The most sought after color is a strong pure red to red with a hint of blue, called pigeon's blood.

The vivid red color of ruby means that it is associated with desire, and it is thought by some to be a stone of love with an aphrodisiac effect.
When the color of ruby is too light, it is classified as pink sapphire, but the line between pinkish-red ruby and pink sapphire varies by region.

The ruby is closely associated with aspects such as vitality, life, passion and fire, all of which can be symbolically linked to the color red.

This shows in Ruby's emotional temperaments and overall emotional/angry attitude as well as her strength.
It is said that rubies can over-stimulate people who are sensitive or irritable.

Ruby is the traditional birthstone of those born in July and is also the zodiacal stone for Cancer and Aries.

Ruby is also used to celebrate the fifteenth and fortieth wedding anniversaries.
The day assigned to Ruby is Tuesday (hence the Rolling Stones song, "Ruby Tuesday").
The planet Mars is famously known as "the red planet", due to the high concentration of iron oxide (basically rust) on its surface and rubies, along with all of the aspects mentioned above, have been linked with Mars in one form or another.
Ruby is the national gemstone of Burma and Thailand.
| | |
| --- | --- |
| Image | Description |
| | Eyeball has a red stone where her left eye would be. It has a square aspect, the front and back are symmetrical, and it has a light pink ring around it, which is usually hidden inside her body, except when she is regenerating. It is a decahedron, specifically a truncated tetragonal dipyramid. |
References
Community content is available under
CC-BY-SA
unless otherwise noted.