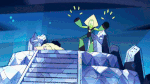 "You have to fix this!"
"

We survived because all the other Rutiles...ran away when we emerged, because they were afraid of us.

"
—"Off Colors"
The Rutile Twins are unaligned Gems living in an abandoned Kindergarten facility on the Gem Homeworld amongst other defective or abnormal Gems known as the Off-Colors. They made their debut in "Off Colors".
They form a defective Gem, being two Gems having conjoined into one during formation (and sharing one body and gemstone).
Appearance
The Rutile Twins form a tall, slender Gem with short maroon hair that ends in a point at the top and light red skin. They have one pair of legs and arms, but two torsos and heads. Their gemstone has a "Y" shape and is located on the navel. Their body shouldn't be confused with a forced fusion.
The Rutile Twins wear an open-toed dark red and black bodysuit, which is red with black stripes on their right half, and black with red stripes on their left half.
History
The Rutile Twins form a defective "off-color" Gem, being two Gems conjoined into one during formation. They have stated that they are supposed to be dead but survived because all the other Rutiles ran away from them in fear.
Personality
The Rutile Twins are shown to be helpful, being the ones who tell Lars and Steven to jump into the hole to the Kindergarten before being caught by the Robonoid chasing them.
They often speak either alternating words or fragments, or often repeat after each other. They are also shown to be curious about Lars and Steven's foreign lifestyle.
Abilities
Natural Abilities
Photokinesis: In "Off Colors," the Rutile Twins are shown using their gemstone to project a red light, like a flashlight. They share this ability with Garnet, Pearl, Peridot, Ruby (Eyeball), and Ruby (Doc).
Trivia
Rutile is the first unfused Gem shown in the series to have two heads.
Gemology
Rutile is the zodiacal stone for Leo and Taurus. It is also connected to Gemini, a possible nod to the fact that they are twins. It is affiliated with the elements fire and air and is the planetary stone for the sun.
Rutile is said to give off an aura of safety and calmness. It promotes forgiveness and helps to fight phobias.
Rutilated Quartz is a quartz that resembles the clarity of smoky quartz with naturally occurring strands of golden or maroon rutile within.
Rutile is a gem, commonly red, that is mostly comprised of titanium dioxide.
98.2% of most rutile specimens are titanium dioxide, with 1.5% being made of iron oxide, and the remaining .3% being a mix of Mg, Al, Si, Ca, Sc, V, Cr, Cu, Zn, Zr, Nb, Cd, In, Sn, Sb, Hf, Ta, W, Pb, and U.
Rutile typically has straight and angular growth, often inside of quartzes.
Twinning occurs in crystals that have a symmetrical join in their lattice.