"Sadie's Song" is the 17th episode of season 2, and the 69th episode overall.
Synopsis
Steven helps Sadie plan a performance for Beach-a-Palooza.[3]
Plot
The episode begins with the residents of Beach City preparing for the Beach-a-Palooza. Steven is handing out fliers for the upcoming event to everyone in Beach City. As he approaches the Big Donut, he tries to give one to Lars but ignores Steven. He enters the store while saying out loud a request for Sadie to attend Beach-a-palooza, but sees the counter unattended. He tries looking for Sadie, and as he hears music coming from a room, comes into the storage room to see Sadie stacking boxes as she sings. At the end of the song, Steven cheers her on, which embarrasses Sadie and quickly turns off the boombox. Steven wonders that he never knew Sadie could sing, but she says that nobody does. Steven tells Sadie that he's helping Mr. Smiley to hand out fliers for Beach-a-Palooza, and realizes that maybe Sadie should sign up, given her good performance. She denies her talent by saying that the song she sang to is cheesy and boring, and that anyone can sing to it, but she remembers all the words. Steven says that she is perfect for the song, and can help her make a routine.
They come to Sadie's house and go to her room in the basement. He notices a pile of plush toys, but resists taking one in fear of "breaking up a family." Steven instructs that before she practices singing, they need to figure out what she will wear, referencing his "act" from two years ago. He asks her what her gimmick should be, but she doesn't want any, as the singing is already a lot for her. She proposes that she should just wear what's comfortable for her. They hear loud thumping from above the ceiling, and Sadie's mother, Barbara, comes in the basement. She greets Sadie, and gives her a plush bear for her to keep. She asks her what Sadie is doing with Steven, and Steven interjects, surprised that Barbara is Sadie's mother. Sadie simply says that Barbara's the mailman, and she compliments herself. Barbara asks what Steven is doing with Sadie, and tries to tell her that they're planning for Sadie's performance in Beach-a-palooza. Barbara gets excited that she will sing, and urges to start planning right away with Sadie. She offers that she takes care of herself, but Barbara simply tells her that she'd love to help, with Steven agreeing. They find Sadie's ballerina outfit, and she explains that she did ballet when she was ten. Barbara finds her swimsuit, and explains to Steven that she used to be a competative swimmer, and Sadie elaborates that was for a month when she was eleven. They find her softball uniform, and Sadie explains that she used to play softball, but was disqualified after Barbara punched the Umpire. 
Barbara tells Sadie that she has nothing to worry about, as they will, along with Steven, plan out her event. A montage plays as Steven writes down the details of the event, while Sadie practices dancing and walking on high heels.  They finish by putting makeup on Sadie's face, and Barbara tells the two that they made an excellent job at preparing Sadie for her song. Steven says that all they have to do now is add Sadie's performance on the list on the fliers, but Sadie asks maybe they shouldn't. Barbara misinterprets it as a way to make a surprise, and Steven agrees with the idea of a mystery final act.
On the night of the event, Mr. Smiley introduces Kiki and Nanefua on the stage, acting as a ventriloquist and a doll, respectively. They deliver a joke, and the audience laughs.
Features
Characters
Objects
Locations
Music
Songs
Soundtracks
Trivia
This is the first episode to have Sadie's name in the title.
Steven is seen wearing a dress for the first time in this episode.
This is the fourth episode that Garnet, Amethyst, and Pearl don't appear in at all.
Continuity
The Beach-a-Palooza event is a nod back to "Steven and the Stevens", where the same event occurs, suggesting it might have been a full year since this episode, which lines up with Connie's words in "Nightmare Hospital" (the previous episode), "I haven't needed actual glasses for almost a year!"
Sadie's scar from "Island Adventure" is still present.
This is the third time that the Crystal Gems didn't appear in an episode.
Errors
Transcript
View the episode's transcript here.
Gallery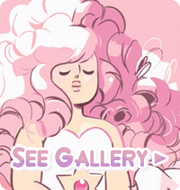 Videos
References