"Sadie's Song" is the 17th episode of season 2, and the 69th episode overall.
Synopsis
Steven helps Sadie put together an act for Beach-a-Palooza.
Plot
The episode begins with the residents of Beach City preparing for the
Beach-a-Palooza
.
Steven
is handing out flyers for the upcoming event to everyone in
Beach City
. As he approaches the
Big Donut
, he tries to give one to
Lars
but he ignores Steven. He enters the store while saying out loud a request for
Sadie
to attend Beach-a-Palooza, but sees the counter unattended. He tries looking for Sadie, and as he hears music coming from a room, comes into the storage room to see Sadie stacking boxes as she sings "
Haven't You Noticed (I'm a Star)
". At the end of the song, Steven cheers her on, which embarrasses Sadie and quickly turns off the boombox. Steven says that he never knew Sadie could sing, but she says that nobody does. Steven tells Sadie that he's helping
Mr. Smiley
to hand out fliers for Beach-a-Palooza, and realizes that maybe Sadie should sign up, given her good performance. She denies her talent by saying that the song she sang to is cheesy and boring, and that anyone can sing to it, but she remembers all the words. Steven says that she is perfect for the song, and can help her make a routine.
They go to the Miller Residence and go to her room in the basement. He notices a pile of plush toys, but resists from taking one in fear of "breaking up a family". Steven instructs that before she practices singing, they need to figure out what she will wear, referencing his act from two years ago. He asks her what her gimmick should be, but she doesn't want any, as the singing is already a lot for her. She proposes that she should just wear what's comfortable for her. They hear loud thumping from above the ceiling, and Sadie's mother, Barbara, comes in the basement. She greets Sadie, and gives her a plush bear for her to keep. She asks her what Sadie is doing with Steven, and Steven interjects, surprised that Barbara is Sadie's mother. Sadie simply says that Barbara's the mailman, and she compliments herself. Barbara asks what Steven is doing with Sadie, and tries to tell her that they're planning for Sadie's performance in Beach-a-Palooza. Barbara gets excited that she will sing, and urges to start planning right away with Sadie. She offers that she takes care of herself, but Barbara simply tells her that she'd love to help, with Steven agreeing. They find Sadie's ballerina outfit, and she explains that she did ballet when she was ten. Barbara finds her swimsuit, and explains to Steven that she used to be a competitive swimmer, and Sadie elaborates that was for a month when she was eleven. They find her softball uniform, and Sadie explains that she used to play softball, but was disqualified after Barbara punched the Umpire. 
Barbara tells Sadie that she has nothing to worry about, as they will, along with Steven, plan out her event. A montage plays as Steven writes down the details of the event, while Sadie practices dancing and walking on high heels.  They finish by putting makeup on Sadie's face, and Barbara tells the two that they made an excellent job at preparing Sadie for her song. Steven says that all they have to do now is add Sadie's performance on the list on the flyers, but Sadie asks maybe they shouldn't. Barbara misinterprets it as a way to make a surprise, and Steven agrees with the idea of a mystery final act.
On the night of the event, Mr. Smiley introduces Kiki and Nanefua on the stage, acting as a ventriloquist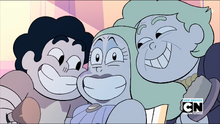 and a doll, respectively. They deliver a joke, and the audience laughs. Mr. Smiley concludes their performance, and excites the crowd by saying that they're close with the mystery final guest, which even he doesn't know, despite being a host. He brings up Ronaldo to the stage and introduces him with his lecture on "rock people". Steven, Sadie and Barbara are at the backstage. Steven is surprised that the flyers worked, and attracted many people to the event. Barbara is excited that Sadie will make a good performance. Mr. Smiley appears at the backstage and finds that Sadie is the mystery guest. He recognizes that Sadie is nervous, and gives her some advice: a little smile never hurt anybody. He smiles as Steven and Barbara join in, and Sadie reluctantly joins too. Mr. Smiley leaves, and Steven and Barbara put more sprinkles on Sadie. Mr. Smiley introduces Jamie's performance, as Jamie runs up onstage and acts as a mime. Barbara sees that they have run out of glitter, and leaves to get some more, as Sadie gets up and wanders around. She overhears Jenny talking to the cool kids, expressing her excitement over the mystery guest. Sadie gets scared after Jenny says she'll have her phone ready in case anyone gets hurt if it's a juggler with sharp objects.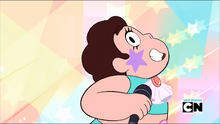 Steven tries to ask Sadie something, but she says she can't breathe, and runs up to get a cup of water. Steven notices that her lipstick washed off, and sloppily reapplies it. She yells and drenches her head in the water tank she drank from, washing off everything. Steven asks her why she did that, and she exclaims that he is just as bad as her mother. Barbara comes back, and drops her bucket of glitter in shock as she overheard Sadie. She tells her mother not to make her do this, but she answers that Sadie wanted to sing. Sadie responds by saying that she said lots of things, such as signing up for swimming and later being discontent with a competition, and signing up for softball but still getting softball supplies six years later. She wanted to plan her Beach-a-palooza night her own way for once, but Barbara interfered just as she had done so every time. Barbara says that she wants to show everyone how talented Sadie is ,but she says that she isn't acting like she wants to be for the event. Barbara apologizes, as Mr. Smiley introduces the mystery guest. Sadie does not want to sing the song, and Steven apologizes, saying that it was always him that wanted Sadie to perform, not she herself. Steven runs up to the stage, in Sadie's outfit, as he sings Sadie's song. While he is performing, Sadie and Barbara talk to each other at the backstage. As Steven is singing, the setting is transitioned to the Big Donut's storage, where Sadie sings and Steven plays the ukulele, just as the star iris closes on Sadie's face.
Features
Characters
Objects
Locations
Music
Songs
Instrumental Songs
Trivia
This is the first episode to have Sadie's name in the title.
This is the first episode to have Sadie singing.
Sadie's last name, Miller, is revealed in this episode.

And by extension, her mother Barbara's as well.

This is the fourth (second consecutive) episode in which Garnet, Amethyst, and Pearl don't appear.

The first being "Horror Club", the second being "Open Book", and the third being "Nightmare Hospital".
The episode is, however, the first time two episodes in a row does not feature the Crystal Gems.
This is the second episode in a row, the first being "Nightmare Hospital" with the plot dealing with the relationship between one of Steven's friends and their mother.

This episode marks Barb's first major role.
In this episode, Mr. Smiley is no longer voiced by Sinbad, but by Colton Dunn.
Continuity
The Beach-a-Palooza event is a nod back to "Steven and the Stevens", where the same event occurs, suggesting it might have been a full year since this episode, which lines up with Connie's words in "Nightmare Hospital" (the previous episode), "I haven't needed actual glasses for almost a year!"

Steven also mentioned that there was a Beach-a-Palooza two years ago.

Sadie's scar from "Island Adventure" is still present.
Many of the members of the audience also attended the Boardwalk Parade, from "Bubble Buddies".
Barb is still wearing her knee brace from "Love Letters".

She also again refers to Steven as "Greg's boy", once more hinting at some kind of relationship between herself and Greg.

Steven learns that Barbara is Sadie's mother.
Ronaldo can be seen carrying what looks like to be a chalkboard with gems and gems symbols drawn in it, meaning he is still truthful to his theories from "Keep Beach City Weird".

One of the drawings in specific bears resemblance to Peridot, which he canonically meets in "Cry for Help", as stated through his blog. Another drawing represents 4 diamonds, arranged to create a large one, a symbol previously seen in the arena in "Sworn to the Sword".

Lars is still hanging out with the Cool Kids and appears more relaxed about it than previously.
Cultural References
The star make-up applied to Sadie is similar to the character Jem from Jem and the Holograms.

In the pile of Sadie's stuffed animals, one of them looks like Gunter from the Cartoon Network series, Adventure Time.
Ronaldo's chalkboard has a symbol first seen in "Sworn to the Sword", which fans have speculated to be the symbol of the supposed Great Diamond Authority, a theory conceived by Ronaldo in the episode "Keep Beach City Weird".
One of the audience members is wearing a shirt with what resembles a "super mushroom" from Super Mario Bros.
Sadie's outfit resembles that of Bloom's outfit in her Winx Form from the Winx Club franchise.
Errors
When Steven first walks into the back room of the Big Donut, Sadie puts a box on the top shelf, completely filling it. A few shots later, the top shelf now has a large space between the box she placed and the other three items, big enough to fit two more boxes.

File:Sadie's Song - Error - Steven's Shoulder.png

At the end of the episode, when Sadie is singing and Steven is playing of his ukulele, a chunk of Steven's left shoulder overlaps his head and hair. This is fixed after we see a close-up of Steven playing, and then comes back to Sadie and Steven.
Transcript
View the episode's transcript here.
Gallery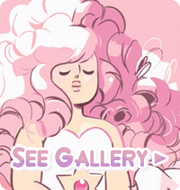 Videos
References
Community content is available under
CC-BY-SA
unless otherwise noted.