"

You're not Sadie Miller. You're Sadie Killer.

"
—Buck Dewey
"Sadie Killer" is the 9th episode of the fifth season of Steven Universe and the 137th episode overall.[2]
Official Synopsis
Steven and The Cool Kids start a band, but they have trouble finding their sound.[3]
Plot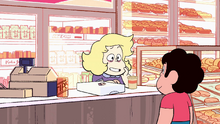 Steven enters the Big Donut, meeting an exhausted Sadie ready to take his order. After giving a long and elaborate order, Sadie asks what all the food is for, and Steven reveals it's food for band practice with Sour Cream, Jenny, Buck Dewey, and even himself. Steven says it's a great outlet for everything that's happened recently, which then prompts him to ask Sadie if she's doing okay. She says since Lars is stuck in space, it's been hard managing all the shifts at the Big Donut all by herself. Steven then invites her to stop by, which she shakily agrees to, given her busy schedule.
Later at the band practice, Buck Dewey tells everyone that they have a gig during the weekend, much to the shock of everyone else considering they have neither a band name, a setlist or even a sound they decided on. The four of them spend the entire practice arguing about what songs they should play, a task ultimately futile given their differing musical tastes. Sadie than walks in right as they are about to leave, much to her disappointment, saying she hopes they have a practice when she's not working.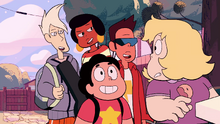 The next day as Sadie is approaching the Miller household, she is surprised by Steven and the Cool Kids who followed her from work. Sadie rushes down to her basement room cleaning up and hiding things while the others marvel at how much space she has. While looking for a more comfortable place to sit, Buck accidentally sits on Sadie's hidden collection of horror movies. Despite Sadie's embarrassment, Jenny is happy to see she has a copy of "The Lurch", which she considers a classic.
While they watch the film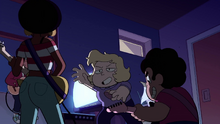 , Steven brings up that they should find their sound to which Sour Cream says that he likes the sound of the film. Steven and the Cool Kids then start playing spooky-sounding music, and Sadie starts singing "The Working Dead". After the short performance, everyone applauds Sadie, with Buck even giving her the nickname "Sadie Killer". They then invite Sadie to be their frontman, but Sadie states she can't due to her having work the next day, much to the others' disappointment.
The next day at the Big Donut, Steven comes to ask Sadie for advice on song lyrics, as he's incapable of doing scary lyrics. Sadie than states how sad she is working a job without the one person she cared about making her so unhappy, and while being in the band could be fun, the uncertainty of it made her scared. After hearing her vent, Steven then sings a short song, to which Sadie asks if that's what she sounds like, but Steven declines, as when she sings about it, it sounds like a real problem for her.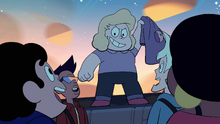 Later that evening, the band is about to leave, without "Sadie Killer", much to their sadness. Steven attempts to be as scary as Sadie but ultimately fails because he's being cuter than him being scary. During the car ride, they stop the car looking for the directions of the venue, when suddenly Sadie comes running up to the car. She tells them that she can come to the show, as well as every show and practice after work. When Steven asks about work, she happily replies that she quit her job at the Big Donut and takes off her work uniform.
Features
Characters
Objects
Locations
Music
Songs
Instrumental Songs
Trivia
The episode title references the nickname that Buck gives Sadie, based on her name "Sadie Miller". It could also be a play on the term "lady killer".
Sadie quits her job at the Big Donut to pursue her newfound passion for horror music.
When Sadie eats the donut, her silhouette bears a striking resemblance to Lars.
Cultural References
The line "We are the Working Dead" could refer to the syllables used in the first line of the show's main theme song, "We are the Crystal Gems."

The line could also refer to The Walking Dead, a critically acclaimed comic and television series about people surviving the zombie apocalypse.

Jenny says she's all for "waking people up inside", a possible reference to the song "Bring Me to Life" by Evanescence.
Sadie's collection of horror movie VHS tapes are clear references to several horror films such as Evil Dead 2, Basket Case, Re-Animator and Nosferatu.

The "UA" on "The Lurch" tape references the United Artists film studio, which is currently owned by MGM.
On one of the covers of the movie tapes, you can see a reference to the cult film Re-Animator. But instead of Dr. Herbert West fighting a revived body, we see Dr. Maheshwaran fighting a Cluster Gem.[4] The episode "Nightmare Hospital" shares a similar theme.

The paper money in the Steven Universe world has a diamond symbol instead of a US president.
The Visa credit card company exists in the Steven Universe world.
Continuity
Errors
Buck's forehead becomes transparent for a split second as he passes by the staircase leading towards Sadie's room.
Transcript
View the episode's transcript here.
Gallery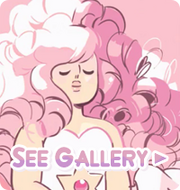 Videos
References
Community content is available under
CC-BY-SA
unless otherwise noted.