Doctor Strange in The Multiverse o Madness - The Loop
Play Sound
"

When stuff gets hairy, I just keep my eyes forward, you know?

"
—"Horror Club"
Click
here
to see more of Sadie Miller's quotes.
Sadie Miller, also known by her former stage name Sadie Killer, is a resident of Beach City and a former employee of the Big Donut. She made her debut in the Pilot, and her first canon appearance was in "Gem Glow". She was formerly the lead singer in the band Sadie Killer and the Suspects until the band disbanded to pursue their interests in "Little Graduation". She is currently dating her romantic partner, Shep.
Appearance
Sadie is short and heavyset, with fair skin and curly shoulder-length blonde hair. She acquired a small, barely noticeable facial scar in the episode "Island Adventure" when the Invisible Gem Monster attacked her, though in the episode "Little Graduation", it is much more visible.
Up until "Sadie Killer", she worked at the Big Donut, so she was usually seen wearing the store's uniform. Her uniform consisted of a periwinkle polo underneath a purple shirt, which displays the Big Donut logo (an image of a half-eaten donut that resembles the letters "B' and 'D'). She wears black leggings and pink-red shoes.
Her casual outfits vary. One is a dull pink jacket with cream fur lining, green shirt, black leggings, and pink-red shoes. Another outfit is a black shirt and grey trousers. She also sometimes wears a maroon v-neck shirt and olive green pants with a black belt.
Sometime after "Reunited" and before "Change Your Mind", Sadie dyed her hair light green. Two years later, in Steven Universe: The Movie, the top part of her hair is back to blonde, whereas the middle and bottom is still green but now in a fade style, and she wears it in a pinned back style with a hair clip.
As of "Little Graduation", she now has her hair fully blonde in a ponytail style with a black hair tie. She wears a pink headband, white shirt, black pants with a blue shirt tied around her waist, and teal sneakers. She also has a gray watch on her left arm.
Personality
Sadie is a clerk at the Big Donut and the co-worker of Lars. She is friends with Steven and enjoys his comebacks. Although she is friends with Lars, she does not like it when he makes fun of Steven. She is sweet, friendly, reserved, mature, and kind-hearted, which can sometimes leave her at a disadvantage. She also values her job greatly and strives to be as professional as she can be.
Although she can be sweet most of the time, Sadie feels as if she is an outcast compared to other groups or individuals. Unlike Lars and others, she is shy and anxious to socialize or have her face shown to everyone publicly, as shown in "Sadie's Song" and "The Good Lars". She can sometimes even have a furious and curtly side since whenever someone like Lars treats her in a way to manipulate her life, she can begin to exclaim and outburst about the whole situation. According to the podcast, Sadie thought no one really wanted to be friends with her, particularly who she thinks is actually cool. She has Lars by her side, but she continued to be discontent with herself.
As shown in "So Many Birthdays" and "Island Adventure" she is capable of protecting herself and loved ones if needed, if not rather violent at times, even if she does not mean to be. She is also shown to have a vindictive side, as Sadie had put Fire Salt in Lars' food as payback for lying to her.
Sadie tends to pry into the lives of others, particularly that of Lars, intending to do what she deems best for them. Her trapping him in "Island Adventure" is a rather extreme example of this overly involved attitude. In "The Good Lars", she notes that this trait is similar to her mother's behavior.
History

Click here to view the history of Sadie Miller.
Relationships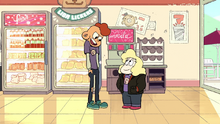 Sadie had a crush on Lars, as confirmed in "Joking Victim". At times Lars can be a jerk to Sadie and be lazy, snobbish, and rude towards her. Although, in "Island Adventure", he showed extreme affection towards Sadie, even going so far as to kiss her. Though the two constantly go through a love/hate relationship, (Steven once called them "married" in the episode "Coach Steven"), they are shown to be good friends and are almost always seen doing things together as shown in the episode "Tiger Millionaire", at the end of "Steven and the Stevens", at Beach-a-Palooza, watching the play together put on by Steven and Jamie in "Historical Friction", and in "The New Crystal Gems", where they were sitting on a bench close to each other. In "Sadie's Song", Sadie panics about performing at Beach-a-Palooza when she sees Lars in the audience. In "The New Lars", Sadie is annoyed that Lars would rather hang out with Buck Dewey than her. Sadie is later surprised to see Lars (without knowing Steven is in his body) show up at her house. She picks up on the fact that Lars is acting differently, wanting to watch a romantic movie, him being kind to her, and she wonders why Lars does not want to be seen in public with her. As Lars, Steven confesses Lars' love to Sadie which prompts Sadie to kick Lars out of her house because she thinks that he would do that to upset her. When Lars returns to his body and is working at the Big Donut, Sadie comes into work and accepts Lars' offer to hang out, leaving Steven to know that the two love each other. In "The Good Lars", she tries to help Lars be more close to the Cool Kids only for being disappointed that he doesn't come and admits that she can't change Lars, it culminates in "I Am My Mom" when Sadie after being captured by a Topaz she asks Lars for help only to see him hiding in fear, much to her disappointment. However, despite Lars abandoning her, she's shown to be deeply worried over Lars' wellbeing when she found out that Lars was stuck on Homeworld in "Dewey Wins".
Lars is seen to get jealous over Sadie, as in "Horror Club" when he attempts to one-up Ronaldo Fryman after he is seen "flirting" with Sadie - hinting towards him starting to return Sadie's crush.
In "Little Graduation", it's shown that Lars and Sadie are still good friends, although Sadie is now dating Shep. Lars openly tells Steven he's happy for Sadie and supports her, showing no ill-will or jealousy, and the two appear to still be friendly.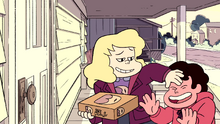 Sadie thinks of Steven as a close friend, almost acting like a sister. Even considering the age difference between Steven and Sadie, she encourages his ideas and tries to help him in any way possible as seen in "Watermelon Steven" where she supports Steven's watermelon business. Even though she does not exactly understand his life situation, specifically related to magic and the Gems, she does her best to support him and she even knows about his mother's sacrifice, as seen in "Lion 3: Straight to Video" where she rushes to help Steven see a video of Rose.
Barbara Miller is Sadie's mother. It is revealed that she cares deeply for her daughter, as shown in "Lion 3: Straight to Video" Barbara still packs lunches for Sadie every day. The two care a lot for each other, though Barbara tends to treat Sadie as a child, which displeases her.
"Sadie's Song" however, focuses a bit more on their relationship. It revealed that Sadie does not feel entirely comfortable with her mother around, due to her overbearing support over everything. Barbara takes any of Sadie's interests to a level in which Sadie is uncomfortable with, such as making her performance as bold as possible, despite what Sadie says. However, Sadie has explained this to her mom, and it is assumed that she is working to get this under control.
Sadie officially meets him in "Horror Club". She treats him as a good friend, while Lars is jealous of their friendship; possibly in part to their falling out in childhood.
Originally Sadie knew the cool kids; Buck Dewey, Jenny Pizza, and Sour Cream primarily through Lars, who would go out of their way to impress them. It wasn't until Buck Dewey invited Lars, her, and Steven over for a potluck in "The Good Lars" that they began to hang out. It was there that she realized they were cool in more than just attitude but were actually very nice. Much later, during the events of "Sadie Killer", they and Steven invite her to sit in while they practiced for their band, during which she was revealed to be a great lyricist and singer, the band even wanting them to be her frontman. While she was terse at first rejecting the offer due to work after Steven helped her realize she hated her job she quit the Big Donut to be their frontman. She and the Cool Kids formed Sadie Killer and the Suspects, performing songs and promoting their albums in Beach City and beyond. As of "Little Graduation", however, they have disbanded to pursue their interests, but remain good friends.
In "Little Graduation", it is revealed that Sadie has been dating a person named Shep whom Sadie met while on tour as Sadie Killer and the Suspects. By the time Steven learns of it, Shep and Sadie had been dating for two months. Sadie and Shep perform the song "Looking Forward" for a crowd as well, showing the two both have musical talent that complements one another.
During "Little Graduation", Steven expresses surprise at the relationship, expecting Lars and Sadie to be an item, however, he learns that Lars and Sadie both realized they were drifting apart, and the relationship with Shep happened as a result. Lars admits that Shep is a much better person for Sadie.
Abilities
Spear use: As of "Island Adventure", Sadie has become very skilled in the art of spear-fishing. She has fished for Steven and Lars when they got stuck on the island. She was able to later use this skill to fight and defeat the Invisible Gem Monster and protect Lars.
Musical ability: Sadie is shown to be a good singer as shown in "Sadie's Song", as well as a good lyricist as shown in "Sadie Killer".
Episode Appearances
Trivia
Sadie and Lars were confirmed by Rebecca Sugar to be some of her first-ever characters. "Lars and Sadie were old characters of mine, from college!"[1]
Sadie is one of the six characters that appeared in the Pilot.
Rebecca Sugar has confirmed that Sadie likes to eat oyster crackers, which is shown in "Joking Victim".
In "Coach Steven", Sadie is shown writing in her journal using her left hand, which reveals that she could be left-handed.
Sadie's voice actor is Kate Micucci, a singer, and songwriter.
Sadie states in "Joking Victim" that her job at the Big Donut started as a summer job, but that it has been two years prior to the date. As of "Sadie Killer", she has quit her job to devote herself to being lead singer of the Cool Kids' band.
Sadie is the first human who had poofed a Corrupted Gem, this one, in particular, being the Invisible Gem Monster. She is also the only human being who had poofed said Gem without any form of magic intervening.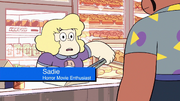 Sadie acquired a scar from her struggles on Mask Island in "Island Adventure". This detail is carried on to every subsequent episode after said events.
It is revealed in "Lion 3: Straight to Video" that Sadie's mom still packs her lunches.
Sadie's last name was confirmed when Mr. Smiley refers to her as "Sadie Miller" in "Sadie's Song".
Sadie loves horror movies. She knew a lot about horror movies in "Horror Club", she is called a horror movie enthusiast in "Rising Tides, Crashing Skies", and she keeps several horror movies in her room shown in "The New Lars".
Galleries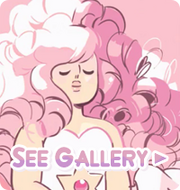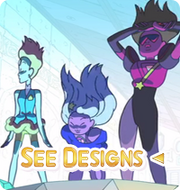 References