Jurassic World: Dominion Dominates Fandom Wikis - The Loop
Play Sound
"

It exists as long as I exist.

"
—"Know Your Fusion"
Sardonyx's Room is a room located in the Crystal Temple. It is only accessible while Pearl and Garnet (and by extension Ruby and Sapphire) are fused as Sardonyx. If Sardonyx unfuses for any reason, then the room itself with collapse and cease to exist.
Description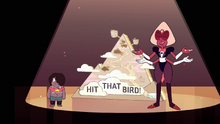 Sardonyx's room is a virtually empty "room" in a blank white void. Sardonyx herself states that her room is infinite but it can only exist as long as she does.
Similar to Rose's Room, Sardonyx can manipulate her room to her will. In "Know Your Fusion", she is able to craft her room into a late night talk show, complete with props, show games, curtains, and a laugh track that acts as her audience. She is also able to manipulate the lighting in the room, being able to completely engulf it in darkness with only a spotlight showing anything in the room. She has the ability to break the fourth wall by showing clips of previous episodes, via a drop-down screen next to her, and play voice clips of other characters, such as Sugilite.
Trivia
In "Know Your Fusion", it is revealed that Sardonyx's Room is only available when she is actively fused.
When Sardonyx's room is activated, the Temple Gate turns into a curtain.
When Sardonyx is walking around in this room, a spotlight is shown to be following her. She is able to turn it off, similar to commercial breaks during comedy shows.
Sardonyx's room is the only room in the temple shown that does not correspond to how the gem is made or looks like.
Sardonyx's room does not immediately cease to exist when Sardonyx unfuses, but rather loses its darkened effect, locks into whatever stage effect was active when Sardonyx unfused, and starts slowly collapsing. The exit door also experiences physical glitches similar to that of a damaged gem (e.g. Amethyst in "An Indirect Kiss") during this process.
The existence of Sardonyx's room implies that rooms for all of the known fusions of the Crystal Gems exist as well, including Smoky Quartz, both the original Rainbow Quartz and Rainbow Quartz 2.0, Opal, Sugilite, Alexandrite, the original Obsidian and the hybrid Obsidian (although the lattermost four may have physical difficulty accessing their rooms due to their sheer size and the physical limitations of the Beach House, but since fusions can shapeshift as well, this won't be a problem).
By extension, it also implies that Ruby and Sapphire each have their own, separate rooms when unfused from Garnet.
Gallery