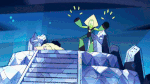 "You have to fix this!"
"Saved the Light" is a song from the credits of the video game Save the Light. It is a rock song sung by Greg Universe.
Lyrics
Adventure is not my nature,
but I'd never trade my place with my friends.
With my son and...
You gave me courage, you gave me hope,
You found the way to bring us home again,
Again~
I've never seen so many beautiful places
Filled with so many frightening faces.
I wonder if people will know what we've done for this world..?
AND IT'S GONNA BE ALRIGHT!
'Cause we've gone and saved the light!
And together we will fight,
'Cause we always save the light!
And now it's time to say good night!
(spoken) Hey, Steven, could you go ahead and...
Get the light?
*presses switch*
Thanks, Shtoo-Ball!
Trivia
This is the first song to be exclusively for a game, not released in the TV series.
References