"Wanted" One Hour Special Event Promo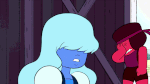 "I saw that this was a possibility..."
This article contains information about content officially released prior to its television premiere. Take caution when reading.
Season 5 is the fifth season of Steven Universe. There are currently 26 planned episodes in the season. The season began airing on May 29, 2017, with "Stuck Together" as a part of the "Wanted" event. It was announced on October 30, 2017, that six new episodes would be released on the Cartoon Network app on November 10, 2017.[1] A new special event coming up in January 5, 2018 was announced, called "Stranded" will air two new episodes.[2]
Summary
Friendships are tested as the saga continues in this Emmy-nominated series, created by Rebecca Sugar. The show returns with new adventurous story arcs and specials, in which fans will meet more Gems, spend time with the Diamonds and gain insight into the ever-mysterious Gem Homeworld while the series' titular hero Steven Universe will grow as a leader.[3]
Episodes
| No. In Series | No. In Season | Title Card | Title | Airdate | Prod. code |
| --- | --- | --- | --- | --- | --- |
130
"The Trial"
May 29, 2017
TBA
Steven goes on trial.[5]
TBA
132
"Lars' Head"
May 29, 2017
TBA
Lars finally lets Steven in.[7]
TBA
133
"Dewey Wins"[8]
November 10, 2017 (online)[1]
December 15, 2017 (TV)
TBA
Steven helps Mayor Dewey run a difficult campaign.[9]
TBA
134
"Gemcation"[10]
November 10, 2017 (online)[1]
December 15, 2017 (TV)
TBA
Greg and the Gems take Steven on vacation to help him relax.[9]
TBA
137
140px
"Sadie Killer"[13]
November 10, 2017 (online)[1]
December 29, 2017 (TV)
TBA
Steven and the Cool Kids start a band, but they have trouble finding their sound.
TBA
138
140px
"Kevin Party"[14]
November 10, 2017 (online)[1]
December 29, 2017 (TV)
TBA
Kevin is throwing a party, and Steven is invited.
TBA
140
"Jungle Moon"[16]
January 5, 2018
TBA
Stevonnie finds themself alone on an adventure.
TBA
Summary
"Stuck Together": Steven and Lars travel to Homeworld and have a heart-to-heart talk along the way.
"The Trial": Steven is put on trial by Yellow and Blue Diamond and discovers a shocking truth about Pink Diamond's demise.
"Off Colors": While Steven and Lars escape, they meet a group of defective Gems hiding from Homeworld.
"Lars' Head": Lars is brought back to life and Steven discovers a new power with amazing results.
"Dewey Wins": After a break-up with Connie, Steven helps Mayor Dewey run for re-election as Mayor of Beach City against Nanefua Pizza.
"Gemcation": Thinking that Steven is upset about what happened in space, Greg and the Gems take him on a vacation to cheer him up.
"Raising the Barn": After finding out that Steven faced the Diamonds, Lapis Lazuli flees from the Earth and takes the barn with her; Steven and Peridot search for Pumpkin, who goes missing.
"Back to the Kindergarten": Steven and Amethyst try to spruce up the Prime Kindergarten and cheer up Peridot by planting a garden there.
"Sadie Killer": Sadie joins a band with Steven, Jenny, Buck Dewey and Sour Cream and makes some spooky tunes.
"Kevin Party": Kevin throws a party, hoping that he can be seen hanging out with Stevonnie; Steven and Connie reunite.
Trivia
It was originally formatted as part of a single 52-episode season and was going to be called "Season 3B", but this was changed for unknown reasons by Cartoon Network, whom is the channel that aired the series split the original third season into Season 4 and Season 5.
Rebecca Sugar has confirmed that she has big plans for Season 5 and will be "shooting for the moon" for it.[17]
Season 5 marks the official debut of the Gem Homeworld in its second episode, "The Trial".
According to Rebecca Sugar, Season 5's story arc will be a "murder mystery" around uncovering the one responsible for Pink Diamond's death.[18]
At New York Comic-Con 2017, "Dewey Wins" was confirmed by the Steven Universe panel to be the next new episode after "Lars' Head". It was uploaded to the Cartoon Network app on November 10, 2017, along with 5 other episodes.[20] According to Cartoon Network, the episodes will air on the channel "beginning in December."[1] It was later confirmed in October 18, 2017 that the official airdate is December 15, 2017.[21]
Gallery
Videos
References
Community content is available under
CC-BY-SA
unless otherwise noted.