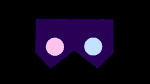 "I see so many possibilities for the future..."
This article contains information about unreleased content. Do not add to this page, unless you have a valid source, and do not add hypotheses to this article.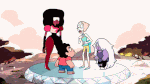 "I don't appreciate your tone."
Please don't add hypotheses in the articles. If you wish to express your opinions, please do so in the
comments
, a
blog
, or the
appropriate board
.
As of March 25, 2019, a sixth season of Steven Universe has not been officially confirmed or denied by any sources. Speaking on the January 24, 2019 episode of The Steven Universe Podcast, former crew member Ian Jones-Quartey confirmed that the Steven Universe franchise was not over following the Season 5 finale, "Change Your Mind", but stated that the story the series had been telling had reached its end,[1] and cautioned fans not to think of "what comes next" as "more of this show".[2] The oblique nature of Jones-Quartey's comments, which deliberately refrain from explicitly stating exactly what the upcoming material is, leaves it unclear if they refer to anything beyond the announced Steven Universe: The Movie.
That said, no explicit cancellation for the series has been announced either, leaving open the possibility that an as-yet-unannounced sixth season is currently in production. Between 2017 and 2019, fans believed they spotted several hints to this, including:
On February 15, 2017, Deedee Magno-Hall tweeted an image of

Rebecca Sugar working at the recording studio. The numbers "609" and "610" appear on a screen; it has been theorized these might be production numbers denoting episodes 9 and 10 of the sixth season.[3] However, these do not match the normal seven-digit format of Steven Universe production codes.
On the September 7, 2017 episode of The Steven Universe Podcast, Jackie Buscarino made reference to a "season 4" that was 32 episodes long.[4] As Seasons 2 through 5 were originally produced as two long seasons, making three seasons total, fans thought it possible that the "Season 4" Buscarino spoke of could refer to a new season, produced after the original three. The unconventional 32-episode figure did not conform to any known season at the time, but with the later revelation that Season 5 was 32 episodes long, it seems more likely Buscarino mis-spoke and was actually referring to Season 5. Note also that, if Season 6 was internally being referred to as "Season 4", this would seem to contradict the 609/610 production code "evidence" mentioned above.
On April 30, 2018, Leisha Medina (the Latin American voice actor of Steven, Blue Diamond, and Onion) tweeted that she is already working on and cannot confirm anything about Season 6.[5]
In July 2018, during the airing on the penultimate arc of season 5, a comment made by Cartoon Network's official Instagram claimed there was "more to come" after the season's end (pictured at right).[6] Fans logically concluded that this referred to a sixth season, but the subsequent announcement of Steven Universe: The Movie leaves open the possibility that it is what was being referred to instead.
In an interview with Nothing But Static in October 2018, Zach Callison said that he doesn't know if there will be a next season. However, when asked how far ahead the cast was in recording, he said that they were "so, so far ahead", and later said he "know[s] an insane amount about what's coming up and it's all so great". It is possible that he was referring to either the movie or "Change Your Mind".
In the Steven Universe Podcast, Rebecca Sugar revealed that Lars is able to make portals like Lion and that this will be explored later. This implies there will possibly be an episode where this happens. However, this may refer to the movie.
In Blogspot, Steve Hulett, former director of the animation guild, said that there will be more episodes of Steven Universe.
References