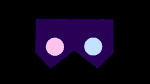 "I see so many possibilities for the future..."
This article contains information about unreleased content. Do not add to this page, unless you have a valid source, and do not add hypotheses to this article.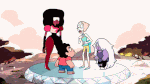 "I don't appreciate your tone."
Please don't add hypotheses in the articles. If you wish to express your opinions, please do so in the
comments
, a
blog
, or the
appropriate board
.
As of September 2019, Cartoon Network has neither confirmed nor denied a sixth season of Steven Universe. Speaking on the January 24, 2019 episode of The Steven Universe Podcast, former crew member Ian Jones-Quartey confirmed that the Steven Universe franchise was not over following the Season 5 finale, "Change Your Mind", but stated that the story the series had been telling had reached its end,[1] and cautioned fans not to think of "what comes next" as "more of this show".[2] The oblique nature of Jones-Quartey's comments leave it deliberately unclear what material they may refer to: Steven Universe: The Movie, a new era of the show, or some other narrative venue.
That said, regular evidence of ongoing episodic production indicates that the TV series will continue in some form, yet to be clarified.
Production
From August through October 2018, Sarah Levin, a production assistant at Cartoon Network, oversaw daily functions in the Steven Universe office "during changeover from film to television production."[3]
As production on the movie began to wind down, regular episodic storyboarding on Steven Universe (in some form) resumed in late summer 2018.
In February 2019, former animation guild director Steve Hulett reported that a director at Cartoon Network stated Steven Universe is indeed "continuing with new episodes."[4]
New storyboard artists for Steven Universe, subsequent to the production of the movie, include Maya Petersen[5] and Etienne Guignard.[6]
Katherine Tsai is confirmed that she joined the Crewniverse as a background painter.[7]
The cast has held regular Wednesday voice recording sessions since late fall 2018 (as of May 2019), with frequent social media[8][9] updates.
In an October 18, 2018 interview with Nothing But Static, Zach Callison said that he didn't know much about the show's future production. However, when asked how far ahead the cast was in recording, he asserted that they were "so, so far ahead", and later said he "know[s] an insane amount about what's coming up, and it's all so great." What material this comment may cover is up for debate.
Early production rumors
In an absence of official confirmation for material following season 5, fans took note of many production hints, starting in early 2017, as possible evidence of a sixth production season: 
Story elements
Regular social media posts from the voice talent indicate the involvement of all the core cast, as well as Grace Rolek (Connie), Susan Egan (Rose Quartz/Pink Diamond), Jennifer Paz (Lapis Lazuli), Shelby Rabara (Peridot), and across several sessions, Kimberly Brooks[15] (Jasper).
In a January 2019 interview[16] with Cartoon Network Brazil, Rebecca Sugar visibly reacted, hesitated, and refused to answer a question as to whether Steven and Connie would marry someday. "That's a spoiler. I can't really talk about that. Please keep watching... the show."
In the Steven Universe Podcast, Sugar revealed that Lars is able to make portals like Lion and that this will be explored later. She did not, however, specify in what venue this might occur. 
In an April 2019 interview[17] with Talk Nerdy With Us, Zach Callison describes his feelings toward the material currently in production. "There's something something really special going on right now, and it caught me by surprise. And, yeah, I really shouldn't be running my mouth about this, but yeah, it's something very special, like, and personal to me, regarding the show."

In an interview[18] with But Why Tho?, from the same event, Callison clarifies, in regard to what effect the character of Steven has had on Callison, "There's some stuff that—really, the crux of this question lies in some things on the show that haven't come out yet, that really bring the arc of my relationship with Steven full-circle? [...] Steven and I have had a very similar arc in life, and very similar trials in life of having a much larger allocation of responsibility than normal placed on our shoulders at a young age—and, rising to the challenge of that, and what kind of mental things come from that. It's been pretty eye-opening. Just, like, recently, like in the past few weeks, some of the revelations I've had, about that". 

After Change Your Mind was aired, one fan asked if that was the end of the series only for Leisha Medina to reply that it wasn't as there was still an another season and the movie but it would take time due to hiatus.[19]
In an interview about Steven Universe: The Movie, Rebecca Sugar said that the events of the movie and the series will be continued in the future.[20]
References
Community content is available under
CC-BY-SA
unless otherwise noted.