Doctor Strange in The Multiverse o Madness - The Loop
Play Sound
"

When Garnet finds out, we're dead!

"
—Amethyst
"Secret Team" is the 29th episode of the first season of Steven Universe, and the 29th episode overall.
Official Synopsis
Steven, Amethyst, and Pearl accidentally pop a bubbled gem and form a secret team to secretly retrieve the missing shards. [2]
Plot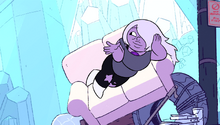 Steven is in Amethyst's room jumping in a puddle when Amethyst tells Steven to "put more ball into your cannon", which confuses Steven, then Amethyst demonstrates by jumping, then shape-shifting into a ball. Steven and Amethyst crawl out of the puddle to find a puddle for Steven to jump into when he looks into one to find the Burning Room and Garnet bringing back a bubbled gem. Amethyst then pulls Steven back and tells him only Garnet is allowed in there. Amethyst suggests for Steven to climb up a pile of trash and jump into another puddle, which leads him to Pearl's room.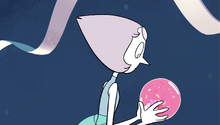 When they get in Pearl's room, they see Pearl with gem shards that Rose Quartz had bubbled, staring at it with intense interest. Amethyst realizes that Garnet would be agitated if she found out what Pearl did, and decides to sneak up on Pearl.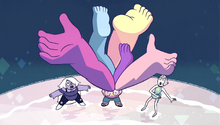 After surprising Pearl, Pearl states that she "just wanted to see how the shards were reacting to Rose's bubble". Amethyst threatens to tell Garnet, which results in them arguing and briefly fighting. Steven tries to intervene, grabbing the bubble, and Pearl tells Steven to be careful with it. Simultaneously, Pearl and Amethyst push the bubble and pop it. To their horror, the gem fragments escape, turning into hideous limbs.
Steven wants to tell Garnet what happened but is told not to do so as they would be severely punished if she knew, so they form a secret team to recover the fragments, with Steven giving each of them a "VIP(IZZA)" card to be their "official membership cards".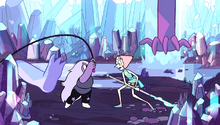 After a series of montages of Steven struggling to take out one fragment and Pearl and Amethyst taking out many with teamwork, they finally retrieve all the fragments. Steven bubbles them and while attempting to put them back, he sees Garnet in the Burning Room and panics. Amethyst and Pearl pull him back up, asking if Garnet saw him, which Steven replies to with a "no". Pearl and Amethyst then put Steven back in the puddle and he puts the bubble back.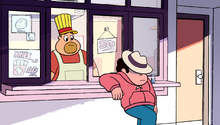 They return to Pearl's room and Steven asks what is next. Amethyst replies that nothing is next and, much to Steven's dismay, they disband their secret team. Upset, Steven walks to Beach Citywalk Fries to get a bag of bits and sulk about the team. Steven has a brief conversation with Mr. Fryman that gives him an idea to reunite Secret Team.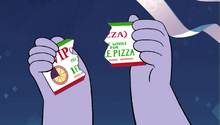 Back in Pearl's room, Steven tries to reform the team by telling Amethyst and Pearl that he had left his "special hat" in the Big Donut, and since it is closed, they should break in and retrieve it. Pearl scolds Steven for thinking that what they did was a fun game, and Amethyst tells Pearl that it was Pearl's fault in the first place. The two begin to argue again and rip their V.I.Pizza cards, symbolizing them 'quitting' the team permanently.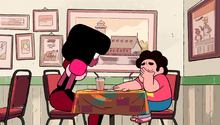 Next, Steven and Garnet are sitting in Fish Stew Pizza. Steven ends up confessing about the popped bubble and about Secret Team to Garnet. Garnet assumes he is "trying to do the right thing", but Steven replies that he just wants to have Secret Team again. Garnet tells him that they can form a team of their own and calls Kiki over to receive a VIP(IZZA) card.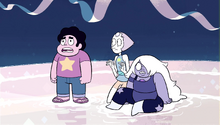 Returning to Pearl's room, Garnet comes in and drops Amethyst and Steven in front of Pearl. Amethyst and Steven ask Garnet what's going on and she tells them that she knows about the gem shards. When neither Amethyst nor Pearl confess to popping the bubble, Steven comes forward and says that it was all his fault. Pearl says that she "can't believe him". Garnet states that she will have to punish Steven. Steven cries out in faux-horror at the prospect of punishment and Garnet tells him to come with her.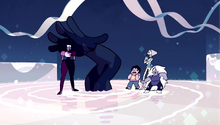 Suddenly, a black hand shoots out of the water and drags Garnet back under with it. Amethyst and Pearl run over to the hand, which had resurfaced in another puddle, and the hand disappears again. Steven says that they must have missed a shard and the hand reappears and punches Amethyst, separating her from Pearl. They each fight a black hand of their own with Steven looking on and occasionally calling out their names helplessly when they are hit.
Eventually, both end up becoming trapped in a hand's grasp. Pearl tells Amethyst to shape-shift in order to escape, to which she replies that she can not because she is "freaking out". Amethyst then tells Pearl that she should and Pearl responds that she can not concentrate. Fearful, Pearl confesses that she should never have had the bubble in the first place and Amethyst admits that it would have never popped if she had not invaded Pearl's personal space. Steven admits that he knew Secret Team was wrong all along but that he had just wanted to see Amethyst and Pearl getting along.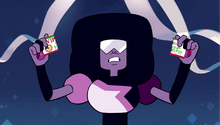 Garnet then emerges from the water and shapeshifts her hands back to normal, revealing that it was her attacking all along. The others are shocked and Garnet angrily states that Pearl and Amethyst can not get along without them thinking she is going to kill them. She then crouches next to Steven and tells him that she understands that he wanted to help and protect Amethyst and Pearl, even from her and that they made him feel like he needed to take their side. Garnet goes on to say that there are no sides because they are all a part of the same team: the Crystal Gems. Garnet and Steven tear their VIP(IZZA) cards and they all drop them in the center of the fountain, ending Secret Team once and for all. The episode ends with Steven remarking that, between the four of them, they could have gotten a free pizza.
Features
Characters
Locations
Objects
Music
Songs
Instrumental Songs
Trivia
A waterfall from Pearl's room falls down into Amethyst's room, implying that Pearl's room is above Amethyst's room, but Amethyst has the ability to access Pearl's room via a puddle on the floor.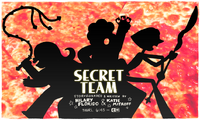 Cultural References
The promotional art for this episode is a reference to Charlie's Angels, a show which featured 3 women working for a man by the name of Charlie.
The singing fish Steven stepped on at the beginning of the episode is a parody of Big Mouth Billy Bass, a singing novelty item made by Gemmy Industries.
When Steven is about to jump into the puddle leading into Pearl's room, a golden sword with parts of the blade noticeably chipped off and a black handle can be seen to the left, which may be a reference to the Cartoon Network show Adventure Time, as Finn Mertens originally owned the sword earlier in the series. It may have been added because it is something Rebecca Sugar worked on.
Errors
When Amethyst morphed into a ball and jumped in the puddle; the frame between Amethyst morphing and entering the puddle is missing.

This might be a special effect rather than an error.

When Garnet lets go of Amethyst and Pearl, they fall to the right and left of Steven, but later they change position.
When Steven suggests they break into the Big Donut, both Pearl and Amethyst have an argument and rip up their card, throwing the scraps into a waterfall in Pearl's room. At the end of the episode, they have them again.
When Garnet's morphed hands grabbed Amethyst and Pearl, Pearl's mouth disappears for a few seconds.
When Garnet had both of her arms at her back, the middle finger of her glove was missing.
Amethyst saying that they were not allowed to go inside the Burning Room except Garnet, but they have entered the Burning Room several times before without infuriating Garnet.

This is because they were supervised by Garnet the other times.

When Steven admits that he only wanted Amethyst & Pearl to get along just because he wanted Secret Team back, his drink disappears and reappears on the next scene.
After Steven slides the V.I.Pizza card across the table, it disappears in the next scene.
When Garnet's arms were crossed at the pizza shop, the middle finger of her hand was not colored in. This is fixed when the scene changes.
Transcript
View the episode's transcript here.
Gallery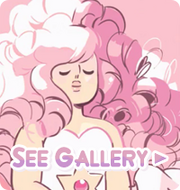 Videos
References