"

Serious Steven, ACTIVATE!

"
—Steven

"Serious Steven" is the 8th episode of the first season of Steven Universe, and the 8th episode overall.
Official Synopsis
Steven tries to prove himself to be a worthy Crystal Gem to Garnet while they navigate their way out of an ancient Gem maze.[2]
Plot
The episode begins with Steven waking up in Funland. He then sees that all of the teacups on the ride have been thrown out of position with everyone else riding in them. The episode then surges to two weeks after the incident with Steven and the other Gems in the teleporter, Garnet mentioning that this is their first serious mission. Steven, for an unknown reason, brings his ukulele, but it floats away, causing him to go after it. The Gems arrive at the Gem Battlefield, and Steven falls out of the warp stream into a patch of strawberries. While covered in strawberry jelly, Steven is suddenly attacked by a small swarm of butterflies and Garnet says, "They're just butterflies, Steven". Steven thought they looked bigger when on his eyeballs. As Amethyst laughs at Steven's words, Pearl thinks she is having second thoughts of having Steven with them but Garnet shushes her and says just look at him.
While walking through the strawberry field, Pearl mentions how it used to be a battlefield for the Gems, which was probably represented by all the swords in the ground. Eventually, the Gems find a large, upside down pyramid, which is what they are looking for. Inside, there were many murals of some of the journeys of the Crystal Gems. Steven finds a strange, smaller pyramid and touches it, causing it to flip over. Everyone inside then begins to gravitate towards a hole in the ceiling. Eventually, they fall into a large room with many doors. Pearl decides the group should split up, and suggests that she should stay with Steven. Amethyst then picks Steven up, saying she will go with him, but Pearl takes Steven back, saying that Amethyst and Steven are just a disaster waiting to happen. Garnet then chooses to take Steven with her while Pearl goes with Amethyst.
Garnet and Steven travel through three trap rooms, with Garnet doing most of the work and Steven usually needing to be saved or carried. In the third room, which was incredibly dangerous with axes, fire, spikes, and lava, after feeling queasy, Steven has a flashback to the Fun Land trip two weeks ago, where he and the Crystal Gems go on the teacup ride. Pearl was riding with Amethyst, with Amethyst asleep while Pearl had a teapot, misunderstanding the point of the ride. Meanwhile, Steven was riding with Garnet, but Steven eventually gets sick and falls out of the ride, landing on Mr. Smiley and breaking the lever. The ride speeds out of control, sending all the teacups flying with the riders inside. Mr. Smiley then angrily banned Steven from all the rides forever after Steven woke up. Back in the present, Steven wakes to realize Garnet carried him through the third room because he fell asleep.
After exiting, they find themselves in the room where they started. Pearl finds them and tells Garnet that they arrive back where they started after three rooms no matter which path they take. Amethyst is seen running through the doorways trying to find an exit, but gets progressively more injured by the traps and hazards. When Pearl admits she doesn't know what's going on, Amethyst flies out in a block of ice, and as Pearl goes to free her, Steven asks Garnet what they should do. She says they'll have to keep going in as long as it takes for them to find the exit. Horrified by this, Steven has a small breakdown as he believes it's his fault he's in this situation, and when Pearl tells him not to think that way, he realizes that the temple must have been like the teacup ride. That each room they enter rotates to connect them to another room, sending them out another door leading into the main chamber.
Garnet breaks through the floor and they all fall into a large mechanism that causes the temple's rooms to rotate. Garnet then throws Steven at the centerpiece and he removes the gem controlling it, causing the temple to explode. The Gems emerge from the rubble and compliment Steven on his ingenuity. The episode ends with Steven strumming on his ukulele singing the Serious Song, only to be interrupted as he's attacked by a swarm of butterflies once again attracted to the berry jam coating his body.
Features
Characters
Objects
Locations
Music
Songs
Instrumental Songs
Trivia
Cultural References
Errors
Transcript
View the episode's transcript here.
Gallery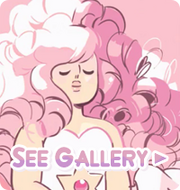 References
Community content is available under
CC-BY-SA
unless otherwise noted.