We're Getting Mutants in the MCU - The Loop
Play Sound
"

Maybe, you're trying to figure yourself out right now, and you want your friends along to help you through it.

"
—"Little Graduation"
Click
here
to see more of Shep's quotes.
Shep is the romantic partner of Sadie Miller. They first appeared in "Little Graduation".
Appearance
Shep has a light brown skin color and dark brown hair. They also sport a white crop top with some colorful abstract designs on it, some slightly big purple joggers and blue and white high tops. They have a backward hat, white with red on the end, a gold nose ring, and four bracelets on their arms (blue and green on the right and yellow and pink on the left). They also wear a dark green backpack.
Personality
They appear to be very laid-back and level-headed, as shown by how they react to being trapped by Steven's powers. They also appear to be understanding and observant of others' feelings, showing this when talking to Steven while trapped inside the dome he created.
They also have shown an interest in music, so much so that they even carry cassette tapes of their music, one of which is given to Steven. They also seem to be very easy to get along with, able to help Steven calmly assess his emotions while inside the dome, and show no further hostility towards Steven after the incident.
History
Shep is first brought up inside Lars's bakery, where Lars asks Sadie about her relationship. At this point, Sadie reveals they've been dating for nearly two months and leaves. Steven then further asks Lars about Shep, where Lars admits Shep and Sadie met while Sadie was on tour.
Shep first appears during the graduation of the Off Colors, where they happily greet Steven when he goes to speak with Sadie. It is also revealed that Shep and Sadie have prepared a duet for the graduation (rather than it being The Suspects like Steven assumed). Later into the graduation party, Sadie and Shep perform "Looking Forward" to the crowd.
Shep, along with the others, gets trapped inside Steven's diamond-like dome created during his pink state. During this, Steven calls out Lars to explain his feelings towards Sadie, where Sadie admits the two tried but "grew apart", and it's assumed that sometime during this Shep entered the picture and Sadie began dating them. Shep shows some happiness when Lars compliments their relationship.
When Steven's dome begins closing inwards with the threat of crushing everyone, Shep is able to assess the situation. Despite Steven's panic and inability to read his emotional state, Shep manages to calmly explain to Steven that, since his powers are based on his emotions, it's likely the dome is a manifestation of his anxiety over his friends leaving. Steven remains incredulous as Shep continues to try and help Steven realize that, while Steven is feeling confused and wants his friends for help, he ultimately needs to let them live their lives. Thanks to Shep, Steven inadvertently drops the dome.
Following this, Steven admits to Sadie and Shep that they are a good couple. Shep, showing no ill will over the prior events, happily offers Steven a copy of their music when Steven asks and even carries copies of their music on tape cassettes. Shep and Sadie then leave.
Greg mentions he has become Shep and Sadie's manager and is touring with them. They are heard in the background of Greg's call to Steven, practicing a new routine.
Shep is mentioned when Steven says he plans to be in Charm City for theirs and Sadie's concert.
Relationships
They met Sadie while Sadie was on a tour with her band, Sadie Killer and the Suspects. As of "Little Graduation", they have been dating for two months and seem to be pretty close. The two play music together as shown with the song "Looking Forward".
Lars and Shep do not have much interaction, however, Lars does show that he knows about Shep, and he's entirely calm about the relationship they have with Sadie. Lars even compliments Shep on being such a good partner to Sadie (possibly due to the admitted poor relationship history between Sadie and Lars).
Steven, at first, seems somewhat hostile towards Shep's existence within his circle of friends. He is unable to understand why Lars and Sadie aren't together and shows a passive-aggressive attitude when first meeting Shep. Shep doesn't seem to react heavily to this but is noticeably aware.
When Steven traps everyone in a dome during his pink state, it is ultimately Shep who calms Steven down and tries to help him work through his feelings, which results in everyone telling Steven they'll stay friends and Steven finally being able to drop the dome. Following this, Shep happily hands Steven a cassette tape of their and Sadie's music and doesn't seem to harbor any anger towards Steven for the incident. Steven also admits the two are a great couple and shows guilt at his actions.
In "The Future", Steven feels comfortable enough to go to one of Sadie and Shep's concerts.
Episode Appearances
Trivia
The musical instrument that Shep plays in "Little Graduation" is known as an Electronic Wind Instrument, or EWI.
They are the first non-binary character in the franchise who is not a Gem or a hybrid fusion.

Their voice actor, Indya Moore, is also non-binary and uses they/them pronouns.
Gallery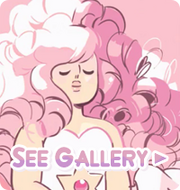 References