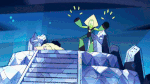 "You have to fix this!"
Shep is the romantic partner of Sadie Miller. They first appeared in "Little Graduation".
Appearance
Shep has a light brown skin color and dark brown hair. They also sport a white crop top with some colorful abstract designs on it, some slightly big purple joggers and blue and white high tops. They have a backwards hat, white with red on the end, a gold nose ring and four braclets on their arms (blue and green on the right and yellow and pink on the left). They also wear a dark green backpack.
Personality
They appear to be laid-back and level-headed, as shown by how they react to being trapped by Steven's powers. They also appear to be understanding and observant to others feelings, showing this when talking to Steven while trapped inside the dome he created.
They also have shown an interest in music.
History
TBA
Relationships
They met Sadie while Sadie was on a tour with her band, Sadie Killer and the Suspects. As of "Little Graduation", they have been dating for two months and seem to be pretty close.
Episode Appearances
Trivia
The musical instrument that Shep plays in "Little Graduation" is known as an Electronic Wind Instrument, or EWI.
They are the first non-binary character in the franchise that isn't a Gem fusion.

Their voice actor, Indya Moore, is also non-binary and uses they/them pronouns.
Gallery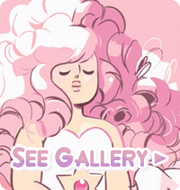 References