She-Hulk Trailer Dropped - The Loop
Play Sound
The Smoke Monster[1] was a monster that Garnet was trying to destroy in the episode "Together Breakfast", until Steven distracted her. The Smoke Monster's power comes from the crushed Gems used as the scroll's pigments.
History
It escapes from an evil scroll and possesses Steven's Together Breakfast. Gaining all the powers of a breakfast, it pins down the Gems, breaks Pearl's spear, and almost Poofing them, until Steven destroys it along with the breakfast.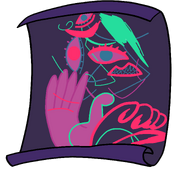 Trivia
The Smoke Monster resembles Giygas from the Super Nintendo RPG, EarthBound. (Or Mother 2 in Japan.)
It is unknown how long the smoke would last without a corporeal host, as it is destroyed soon after creation.
It was revealed by Joe Johnston on Tumblr that the Gems responsible for the smoke monster are ground up and used for pigments in the ink on the burned scroll: "Well, to make pigments you use certain minerals to achieve different colors. Those different pigments get use in inks and paints... see where I'm going with this...". The post was later deleted.

Despite being crushed to dust, the magic in these Gems allowed them to remain functioning on some level, similarly to broken Gem Shards.[2]
Furthermore, they remained conscious, proven by the audible screams once the scroll was set ablaze.

The Smoke Monster is similar to the character called Sourdough from Wander Over Yonder: "The Fancy Party". Sourdough is some sort of spirit or energy being that he possesses people's body for every 1,000 years.
Gallery
Screenshots
Storyboards
References