| | |
| --- | --- |
| | This is a transcribed copy of "Snow Day". Feel free to edit or add to this page, as long as the information comes directly from the episode. |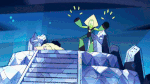 "You have to fix this!"
Speaker
Dialogue
[Open. Int. Beach House in snowy day]
Steven
*wakes up from alarm* All right, Little Homeschool. What's on the docket for today? *stretch* You can do it! *sighs*
(Steven gets some filtered water, but Amethyst comes in with fried eggs for eyes.)
Amethyst
You really gonna skip the most egg-ssential meal of the day?
Steven
Of course not. I've got all my morning nutrients in this protein shake.
Amethyst
... *pokes yolk to leak* Dude, you're making me sad.
Garnet
Steven. I packed everything you're gonna need for today in your cheeseburger backpack.
Steven
Uh, I don't really use that anymore. Besides, I packed my own bag.
Garnet
At least pet this cat.
Cat Steven
Meow.
Steven
Why was I going to need... *sigh* Never mind. Got to go.
Pearl
Hold it. According to my weather application, it's going to snow all day and overnight. You're going to freeze if you don't put on a puffer, a hat, and two scarves. Better make it three.
Steven
*muffles in denial* Pearl, I need to get going!
Pearl
But classes don't start for another couple of hours.
Garnet
Wait for us. We can head over together.
Amethyst
Why are you taking the old Dondai anyway? We have the warp technology. *slurps eggs off face*
Steven
It's because I've got errands to run in town before classes start.
Garnet
Of course. Go get 'em, champ. *places hand on Steven*
Amethyst & Pearl
Yeah! *places hand as well* Go get 'em!
(Steven does his errands and returns home.)
Garnet, Amethyst & Pearl
Surprise!
Amethyst
We were sitting in the dark!
Steven
Hey, guys.
Amethyst
Guess what we've got lined up tonight. "Pupcopter's Sky-High Adventure"!
Pearl
Sheet masks with cute animal faces!
Garnet
And, most importantly, pizza.
Steven
Uh, guys, I've been a vegetarian for, like, a month, and "Pupcopter" is for 6-year-olds, and I have my own skin care routine. Anyways, it's cool. I already ate. *walks upstairs*
Amethyst
Oh well. We'll just watch the movie with Cat Steven.
Garnet
My bad. I was sure we were in the pepperoni timeline.
[Time-Skip]
(Steven wakes up to turn the alarm off but accidentally slides it to the ground. He rushes down the stairs to leave, preparing the usual protein shake.)
Pearl
Look, Steven. Together Breakfast! Just like old times.
Steven
Too much sugar for me, but thanks. *opens door* See you at work, guys.
(But Steven can't leave, for the door is flooded with snow.)
Steven
Okay, just have to take the warp, then.
Garnet
Steven, I wouldn't do that if I were you.
(Steven gets collapsed with more snow from the warp tunnel.)
Amethyst
*laughs*
Steven
Looks like we have to cancel Little Homeschool for the day. Pearl, can you send out a mass text?
Pearl
On it.
Amethyst
Hold up! Are you saying we have the day off?
Pearl
Ooo, we can re-read "No Home Boys".
Garnet
And I'll do all the voices.
Steven
No, I don't need you to read to me. I-if anything, I need to sit down with the calender. Snow-pocalyse is going to affect the third-quarter schedule.
(Steven gets out his notebook.)
Amethyst
Man, you had a better work-life balance when the Diamonds were trying to destroy the planet.
Steven
That was then. This is now.
Amethyst
*groans* ... Hey, you know what we haven't done in a long time? *jumps on table* Steven Tag!
Steven
Aah! *rolls backwards* Amethyst, what the heck?!
Amethyst
You know the rules, buster. You get tagged, you have to turn into Steven.
Steven
But I'm already Steven!
Amethyst
Nah, bruh. Classic Steven.
Steven
Classic Steven?! Aah!!
(Amethyst gives chase, ending in the bathroom.)
Amethyst
*laughs* Ste-e-ve-en! Come out and Pla-a-ay! *laughs*
Steven
I'm not playing.
Amethyst
*tries entering* Aw, dang. He got me with the towel. Ugh, fine! It's not like we need you to play Steven Tag anyway.
(Cautiously, Steven opens the door and looks around. Suddenly, Garnet is spotted on the ground.)
Steven
Hey, Garnet. Lose something?
Garnet
It's Cat Steven. Haven't seen him all morning.
Steven
Oh. Weird.
Garnet
Steven, you should check the cabinets.
Steven
Uh, okay. In here?
Garnet
*pats Cat Steven* Yes.
Steven
Huh- (Amethyst jumps out.)
Amethyst
Get ready for Steven Tag!
(Steven runs away, making Amethyst tag Garnet first.)
Garnet
What an unforeseen turn of events.
Amethyst
You know the rules.
(Garnet turns into Steven, staring with Amethyst at their true target tip-toeing away.)
Steven
See ya!
(The chase begins. Steven trips on a pillow, and the two jump from above. Steven forms a bubble in time.)
Garnet
You can't stay in there forever. *prepares a punch*
(Steven gets up and throws Garnet and Amethyst into Rose's room, and Steven exits.)
Steven
That should keep you busy for a while. Maybe now, I can get these schedules done in peace. Huh?
(Unfortunately, Garnet and Amethyst make it out through the Burning Room)
Garnet
Steven!
(Steven retreats behind the table.)
Steven
How'd you get out so fast?! Whoa!
(Garnet jumps over, forcing Steven upstairs and hidden under his bedsheets.)
Amethyst
Hiding under the covers, are we?
(Steven is startled out of bed and falls down the stairs. Pearl warps into the Beach House.)
Pearl
Steven, what are you doing?
Steven
Pearl!
Pearl
Has cabin fever taken hold already?
Steven
It's Amethyst and Garnet. They're playing Steven Tag to mess with me.
Pearl
Steven Tag? Wow! That takes me back. Well, I'm sure they- *gasps*
Steven
*gasps*
(Something has happened to Pearl. As it turns out, Garnet has *tagged* her. Pearl keels over.)
Steven
... Hah! Jokes on you! Pearl doesn't shapeshift! Huh?
(Contrary to Steven's expectations, Pearl shapeshifts into Steven. She couldn't suppress her compulsion to play.)
Pearl
The power of Steven Tag compels me!
(Garnet and Amethyst giggle and cheer, proud of Pearl's development.)
Steven
*laughs* Wow. Good for her.
(Eyes glint. They want to tag Steven badly. They chase Steven around the house until the garden dome room. Steven's rest is broken by Pearl's appearance out of a pot plant. Disguises continue to fool Steven into traps. He eventually stand on top of his clothes drawers, threatening to throw tidy clothes.)
Pearl
Steven, no! I just folded those!
(Pearl is distracted, and Steven attempts to escape. However, Garnet and Amethyst already knew of Steven's plan and blocks his path. Steven had no choice but to jump outside and hide with the snow.)
Steven
*sighs* They can't hold those forms forever. I'll just wait until-
(Bang! Sugilite Steven is here!)
Steven
What?! You fused?! *runs* Hey! This is dangerous!
(Steven summons his shield to ski across the snow. Snowballs rain down in response from Sardonyx Steven.)
Steven
I'm still not playing!
(Steven swerves to evade the continuing onslaught. He loses control and trips from flying off a nearby rock. Opal Steven is in the prime position, using Garnet as the projectile to tag Steven's jacket.)
Garnet
Target acquired.
(Garnet crashes into the jacket. However, her prediction is wrong. Steven is not under the jacket.)
Garnet
It was a snowman... with Steven's jacket. Noooooo!
(Steven has escaped but is shivering.)
Steven
They'll never stop until they make me play.
(Footsteps from behind, it's Alexandrite Steven.)
Steven
Oh, geez.
(Alexandrite breathes a firey flame at Steven, who bubbles to protect himself.)
Steven
I really didn't want to do this, but you leave me no choice.
Steven
I JOIN THE GAME!
(Steven is finally convinced. He bounces off Alexandrite Steven's head towards the Beach House. Alexandrite Steven attempts to catch Steven landing on the Obsidian statue's hand but fails. Back and forth, he makes it to the slope of the hill and jumps to the Lighthouse peak.)
Steven
There's no way she can catch me here... Aah?
(Alexandrite Steven beats Steven on top of the lighthouse and unfuse to all separate gems including Garnet to Ruby and Sapphire. Then they act as a bombardment for Steven to avoid except Sapphire.)
Steven
*forms bubble fists* Enough is enough!
(Steven blasts through the bombardment and lands successfully on the lighthouse's roof, staring down menacingly.)
Steven
You shouldn't have messed with me. Huh? (And Steven is tagged by the unlikely Sapphire.)
Sapphire
Tag.
(Everything shatters around Steven. He falls off the lighthouse.)
Steven
Oh, no. Is this the end of my adult life?
(Crash landing. Steven Tag is finished.)
Amethyst
Ha ha!
Ruby
Sapphire, you did it! You're the best! *fuses back into Garnet*
Garnet
You've been tagged.
Amethyst
You have to tuuurn into little Steeveeen!
Pearl
Those are the rules!
Steven
Hmph. No.
Garnet, Amethyst & Pearl
Do it. Do it. Do it.
Cat Steven
Meow.
Steven
*sighs* Et tu, Cat Steven?
Cat Steven
Meow.
Steven
*groans* Okay! I'll do it. *shrinks into little Steven*
Garnet, Amethyst & Pearl
He's so cute!
Steven
No, I'm not! This is tough for me, you know? I-I feel like no matter how hard I try, you still see me like this.
Amethyst
Buddy, we just want to spend time with you.
Pearl
Yes, like we did when you were-
Steven
A kid? I don't want to disappoint you, but this isn't me anymore. Please, I need you to see me... *grows back*
Steven
...for who I am now.
(Garnet, Amethyst, and Pearl hug Steven.)
Garnet
Please forgive us.
Amethyst
We didn't mean to hurt your feelings.
Pearl
We just miss you, Steven.
Garnet, Amethyst & Pearl
We're sorry.
Steven
I've missed you, too, guys, and, you know, *sighs* it was actually pretty nice to spend time with y-y- Ah-choo!
(Amethyst receives Steven's jacket.)
Steven
Thanks, Amethyst.
Garnet
Steven, we're so proud of the person you've become.
Amethyst
Yeah, that's why we wanna hang out with you so bad!
Pearl
But, if you need to get back to work now, we'll understand.
Steven
Well, I can't because, tag, you're it!
Amethyst
Ah ha! *laughs*
Garnet
*chuckle* I guess, we have to update the game... *turns into Future Steven* to this.
Steven
Yeah! I love it!
Garnet
Perfect. *summons gauntlets* Now, you all better run.
Steven
Ha ha!
(And they all run down the hill, Steven rolling down one, and they played for the day. The next day, Steven wakes up refreshed, and this time, he travels with Garnet, Amethyst, and Pearl to their duties.)
[END]
Community content is available under
CC-BY-SA
unless otherwise noted.