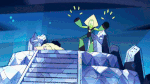 "You have to fix this!"
"Soundtrack: Volume 1" is a compilation album of remastered music from Steven Universe. It will be available for purchase in digital music stores and major streaming platforms on June 2, 2017[1], with preorders currently available as of May 18.[2] The full track list was revealed in an hour-long Facebook livestream with Aivi & Surasshu on May 17, 2017[3]. The Album will be released on June 02, 2017 in iTunes.[4]
Tracklist[3]
Note: The timestamps refer to the parts on the Facebook livestream the songs are revealed on the TV screen. The left is the ascending time usually found on normal media players while the right shows the descending time present on Facebook's media player.
Gallery
References