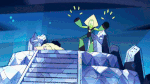 "You have to fix this!"
"Soundtrack: Volume 1" is a compilation album of remastered music from Steven Universe. It will be available to purchase in digital music stores and major streaming platforms on June 2, 2017[1], with preorders becoming available on May 18.[2] The full track list was revealed in an hour-long Facebook livestream with Aivi & Surasshu on May 17, 2017[3].
Tracklist[3]
Note: The timestamps refer to the parts on the Facebook livestream the songs are revealed on the TV screen.
Gallery
References