Level 2 Canon Section
This section contains informations on a subject that is considered "level 2 canon" and may be contradicted by the TV series.
Soundtrack Attack was a Steven Universe mobile rhythm game that was released on July 21, 2016. The player's customized Gem character (either a Ruby, Pearl, or Quartz) has escaped from Homeworld via an escape pod, and with the help of the Crystal Gems, must travel along various locations to avoid being captured by Homeworld Gems in a Roaming Eye.
The game was taken down from app stores in late 2019 for unknown reasons.
Description on the App Store
Soundtrack Attack is a rhythm runner set to the music of Steven Universe!
Battle to the beat
Let's do this! Tap, hold, and swipe along to the music to unleash awesome attacks and outrun the Homeworld Gems in Soundtrack Attack - Steven Universe.
Make your own Gem
Choose a Quartz, Ruby, or Pearl and make them your own. Customize your Gem with hair, outfits, accessories, and weapons! Unlock even more options as you play.
Play Steven Universe songs
Soundtrack Attack features the music from the Steven Universe soundtrack, including remixes of "We Are the Crystal Gems," "Stronger Than You," "Steven and the Stevens," "Giant Woman," and many more!
Believe in Steven with Soundtrack Attack - Steven Universe!
Levels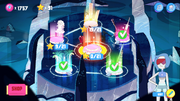 Characters
Playable
NPCs
Enemies
Remixes
Where to download
The game was removed from Google Play, Amazon, and App Store, though it can be redownloaded if installed at least once.
Video
Gallery
Objects
Community content is available under
CC-BY-SA
unless otherwise noted.