The world of Steven Universe is filled with many different and unique creatures. This is a list of known species.
Humans are the most populous sentient species on Earth. The humans in Steven Universe seem to be aware of the magical creatures and happenings around them and coexist with them.
Main article: Zoomans
Main article: Gems
Gems are a humanoid species of magical alien beings. They have many and varied abilities, but all share the trait of having a magic gemstone embedded somewhere on their body from which they can summon a special weapon. These also are the core of their being, as their bodies are just projections that have mass. Gems have the power to shapeshift and are genderless,[1] but use feminine pronouns. Steven is the first gendered Gem because he is half human. Gems also can have special abilities, such as Hydrokinesis, Phytokinesis, future vision, heat resistance, and many other abilities depending on the Gem.
Magical Creatures
Miscellaneous Magical Creatures
Sentient Plants
Non-Sentient Plants
Corrupted Gems' Minions
Lights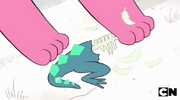 Other
Non-Magical Creatures
Miscellaneous Non-Magical Creatures
Ungulates
Goats

Steven Jr.'s mate
Steven Jr.'s kids

Cows (mentioned in "Too Far")
Other Mammals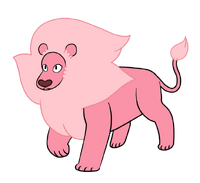 Reptiles
Birds
Aquatic Life
Arthropods
Other Invertebrates
Jungle Moon Inhabitants
Arthropod Alien
Round Alien
Ungulate Alien
Other
Unnamed organic lifeforms of Jungle Moon's orbital planet
Rainbow Caterpillar Creature (seen in Steven's dream at the beginning of "Change Your Mind")
References