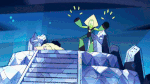 "You have to fix this!"
Spinel's Injector was a massive weapon brought by Spinel to destroy Earth as a means of revenge against Steven and the Crystal Gems for her abandonment by Pink Diamond.
Appearance
It has a black-accented, hourglass-shaped body, with a drill and three spider-like legs at its base. There is a hot pink gem with a heart facet on its top.
Function
Spinel's injector injects a "pure and uncut" bio-poison, which kills all organic life including plants, animals, insects and people. If the machine is disturbed or tampered with, its rate of injection accelerates.
Trivia
It is unknown how Spinel acquired this Injector.
Gallery
Community content is available under
CC-BY-SA
unless otherwise noted.