Jurassic World: Dominion Dominates Fandom Wikis - The Loop
Play Sound
The Star Skipper is a spacefaring experimental fighter jet designed by Lars Barriga. The spaceship was acquired by Captain Lars and the Off Colors during their escape from Homeworld territory and makes its debut in "Lars of the Stars". It is later destroyed in its crash landing on the Jungle Moon in the episode of the same name.
Appearance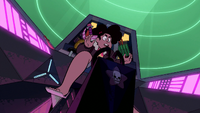 The Star Skipper is a small, gray ship, capable of being stored inside the Sun Incinerator. It possesses two wings, which extend from the two engines located on the sides of the fuselage, and a vertical stabilizer behind the cockpit.
The inside of the cockpit is colored gray, purple, and rose pink and is modeled after the driver's seat of a car. Pink screens surround the driver's seat, which faces a steering wheel and a dashboard. There is an image of a skull in a star on the back of the steering wheel's base. A gear stick is located on the driver's right.
History
In the episode "Lars of the Stars", Emerald's Destiny Destroyer attacks the Sun Incinerator, knocking offline its weapons and shields. As a result, the Star Skipper on board the Sun Incinerator becomes its only defense available to Lars. Stevonnie volunteers to pilot the Star Skipper in place of Lars in order to destroy the Destiny Destroyer's main cannons. They complete their task, but while returning to the Sun Incinerator, the Destiny Destroyer hits the Star Skipper with a missile.
In the episode "Jungle Moon", the Star Skipper is seen falling to the Jungle Moon after being hit by the Destiny Destroyer. While falling, Stevonnie tries to regain control without success. They receive a transmission from Lars and report the precarious state of the ship, but before Lars can intercept their trajectory, the contact between the two is interrupted. The ship enters the Jungle Moon's atmosphere and collides directly with a flower tree, destroying it.
Stevonnie survives the crash thanks to their bubble. Later, they find the ship's dashboard and try to call Lars for rescue without success. Stevonnie sets up a camp where they use a part of the cabin window as a mirror.
Abilities
Missile Tracker: The ship can locate and track dangerous enemy missiles.
Communicator: The ship enables its pilot to call another individual.
Blasters: The ship can fire laser beams.
Trivia
When the ship locks onto a target, the display shows a reticle tracking the target, flashing the phrase "BINGO BONGO", Lars' signature catchphrase.
When the ship tracks enemy fire or other hazardous objects, such as precision missiles, the display highlights the object, simply flashing the word "NO", implying a dangerous object is headed its way.
The Star Skipper's overall exterior and cockpit resembles the FF-X7 Core Fighter from the 1979 anime series Mobile Suit Gundam. 
Gallery
Screenshots
Storyboards
Backgrounds