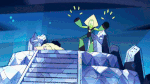 "You have to fix this!"
Steg is the fusion of Steven and Greg Universe. Voiced by Ted Leo, he debuted in Steven Universe: The Movie.
Appearance
Steg has four arms, light skin, and long brown hair. He wears Steven's shirt, now torn open at the chest, and Greg's shorts.
Abilities
Steg seems to have the ability to physically lift others up through the use of music.
Trivia
Steg's name was confirmed by captions of the episode and credits on Apple TV.
| Image | Description |
| --- | --- |
| | Steg's gemstone is placed where the navel would be, as with Steven and Rose Quartz. It has a pentagonal facet. |
v • e
Fusion Gems
---
Hybrid Fusions
Crystal Gem/Homeworld Gem Fusions