"

It's a big, old universe out there. And when you're gettin' crushed under the weight of them stars... Well, sometimes, you need that special someone to remind you that you're so much more.

"
—Steven Universe: The Movie
Steg is the fusion of Steven and Greg Universe. He debuted in Steven Universe: The Movie.
Appearance
Steg is a tall and muscular fusion with four arms, light skin, and long brown hair which at the top resembles a pompadour. His Gemstone is in his navel in the middle of eight pack abs. He wears Steven's shirt, now torn open at the chest and shoulders, and Greg's shorts. He also wears Steven's sandals.
Personality 
Although most of his personality is unknown, his mannerisms imply that he is smooth, optimistic, and free spirited.
Abilities
As a hybrid fusion, the reach of Steg's abilities are unknown. However, he does showcase many unique powers, amplifying those of his components, and clear physical strength and agility.
Natural Abilities
Superhuman Agility: Steg is shown to be an agile performer, spinning Pearl in the air and dancing with skill.
Skillset
Musical Proficiency: Following Steven and Greg's steps, Steg is shown to be a musical talent, a rockstar. He is shown to possess a pitch-perfect voice and the ability to play his "weapon," a double-neck electric guitar, alongside Opal.
Inherited Powers
Speed of Descent Regulation: As he is about to unfuse, Steg slowly descends from the air, in a similar fashion to Steven.
Unique Abilities
Levitation: Steg seems to have the ability to levitate himself and others with music. Perhaps this is a mix of Steven's magical high-jump and Greg's power to reach people through performing. Anyone affected by this power, even Steg himself, is surrounded by a pink aura.
Episode Appearances
Trivia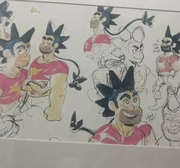 Steg's name was confirmed by captions of the movie and credits on Apple TV.
An Instagram post showcasing some of Steg's concept art offhandedly refers to him as "Steg Multiverse".[1]
In an interview, Rebecca Sugar stated that Steg was originally called Mr. Multiverse in some old notes from around 2013 or 2014, and was going to be in a battle of the bands episode before the idea was scrapped. In the  interview, it was also mentioned that the team always intended Steg to be a combination of "Steven and Greg's wonderful father/son, rock star/savant" relationship; "[Steg is the] ultimate ally who has all of Greg's emotional intuition and free spirit and all of Steven's compassion. The support that Steven gets from Greg is so grounding for him, and that character is just in a perfect position to do that for others, to just radiate support and confidence."
Steg's voice actor, Ted Leo, is in a band called The Both with Opal's voice actress, Aimee Mann, which seems to be the inspiration for Steg and Opal's duet in the movie.
Steg is the first fusion to be 100% male.
This is the second fusion between Steven and another human being after Stevonnie.
Steg's pompadour might be a reference to "Steven and the Stevens" where Steven One had his hair in a similar style.

The pompadour is also a trope of masculinity in anime, showing that Steg is a fully male fusion.
The pompadour is the iconic hairdo of Elvis Presley, not only the man to whom it was generally first attributed, but also one of the most famous rock stars in history. The inspiration from Elvis may also extend to Steg's dance moves, having a large focus on his hips.
| Image | Description |
| --- | --- |
| | Steg's gemstone is placed where the navel would be, as with Steven and Rose Quartz, it has a pentagonal facet, also alternating it, like Stevonnie. |
Galleries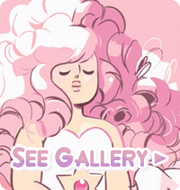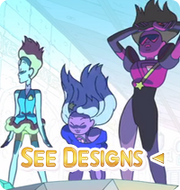 References
v • e
Fusion Gems
---
Hybrid Fusions
Crystal Gem/Homeworld Gem Fusions