Tags:

apiedit

,

Visual edit

(30 intermediate revisions by one other user not shown)
Line 1:
Line 1:
 

{{Location

 

{{Location

 

|Location = [[Beach House]]

 

|Location = [[Beach House]]

−

|image = Steven's Bathroom - HD.png

+

|image = .png

 

|FirstAppearance = "[[Catch and Release]]"

 

|FirstAppearance = "[[Catch and Release]]"

−

|LatestAppearance = "[[The New Crystal Gems]]"

+

|LatestAppearance = "[[ ]]"

−

|Inhabitants = [[Peridot]] (formerly)}}

+

|Inhabitants = [[Peridot]] (formerly)

 
+

*[[Pumpkin]] (formerly)

−

'''Steven's Bathroom''' is located in the [[Beach House]]. This is the area in which [[Steven Universe (character)|Steven]] prepares for the day, and also where [[Peridot]] was kept. It debuted in "[[Catch and Release]]" after Peridot was set free by Steven and subsequently evaded capture until she locked herself in this room.

+

'''Steven's Bathroom''' is located in the [[Beach House]]. This is the area in which [[Steven Universe (character)|Steven]] prepares for the day, and also where [[Peridot]] was kept. It debuted in "[[Catch and Release]]" after Peridot was set free by Steven and subsequently evaded capture until she locked herself in this room.

 
 
 

== Appearance ==

 

== Appearance ==

−

Under [[Steven's Room|Steven's room]], around the corner, reveals a typical bathroom. It holds many normal items, including a red sink, shower (with a red curtain and many yellow stars, similar to Steven's shirt), bath tub, mirror, toilet and a red rug. According to Peridot, the room has a citrus scent to it.

+

Under [[Steven's Room|Steven's room]], around the corner, reveals a typical bathroom. It holds many normal items, including a red sink, shower (with a red curtain and many yellow stars, similar to Steven's shirt), , mirror, toilet and a red rug. According to Peridot, the room has a citrus scent to it.

 
 
⚫
 
 
 
 
+
 
+

Following the house's renovations between "[[Change Your Mind]]" and [[Steven Universe: The Movie|the movie]], the bathroom itself remains virtually unchanged. The side with the door, however, is slightly expanded, with the door itself now facing the right side of the house rather than the back.

 
+
 
⚫
 

=== "[[Catch and Release]]" ===

 

=== "[[Catch and Release]]" ===

 

Steven is shown brushing his teeth, waxing his ears, and shining his Gem in his bathroom. When Peridot is later cornered in the house, she locks herself in the bathroom. Over the course of Peridot's stay in the bathroom, Steven has been the only person allowed access inside to prepare for the day, or to simply go to the bathroom.

 

Steven is shown brushing his teeth, waxing his ears, and shining his Gem in his bathroom. When Peridot is later cornered in the house, she locks herself in the bathroom. Over the course of Peridot's stay in the bathroom, Steven has been the only person allowed access inside to prepare for the day, or to simply go to the bathroom.

 
 
 

=== "[[When It Rains]]" ===

 

=== "[[When It Rains]]" ===

−

Peridot is shown to be still locked inside of the bathroom, and only runs out when she hears the loud crack of thunder, and when the other Gems are gone.

+

Peridot is shown to be still locked inside of the bathroom, and only runs out when she hears the loud crack of thunder, and when the other Gems are gone.

 
 
 

=== "[[Same Old World]]" ===

 

=== "[[Same Old World]]" ===

−

After [[the Cluster]] is taken care of and Peridot becomes a member of the Crystal Gems, Steven offers her to live in his bathroom again. Peridot rejects, stating that she has seen what goes on in there.

+

After [[the Cluster]] is taken care of and Peridot becomes a member of the Crystal Gems, Steven offers her to live in his bathroom again. Peridot rejects, stating that she has seen what goes on in there.

 
 
 

=== "[[The New Crystal Gems]]" ===

 

=== "[[The New Crystal Gems]]" ===

−

[[Connie]] finds Peridot and [[Lapis]] in the bathroom, where Peridot wishes to show Lapis her old room. Peridot is seen trying to flush herself down the toilet like she once did before.

+

[[Connie]] finds Peridot and [[Lapis]] in the bathroom, where Peridot wishes to show Lapis her old room. Peridot is seen trying to flush herself down the toilet like she once did before.

 
+
 
+

=== "[[Storm in the Room]]" ===

 
+

Steven uses the bathroom to take a shower after Connie and her mother left. He also changes his clothes from "[[The Zoo]]".

 
+
 
+

=== "[[Raising the Barn]]" ===

 
+

After Lapis flies off Earth and takes the barn with her, Steven lets an upset Peridot take refuge in his bathroom once again, only this time with [[Pumpkin]].

 
+
 
+

=== "[[Back to the Kindergarten]]" ===

 
+

After a few days of staying in his bathroom feeling depressed, Amethyst decides to take matters into her own hands and accompanied by Steven, convinces her to the [[Kindergarten]].

 
+
 
+

=== "[[Can't Go Back]]" ===

 
+

Steven uses the bathroom before sleeping and saying goodnight to Peridot. She is seen sleeping in the bathtub, together with Pumpkin.

 
+
 
+

=== "[[Steven Universe: The Movie]]" ===

 
+

TBA

 
 
 

== Objects ==

 

== Objects ==

Line 30:
Line 49:
 

* Peridot first described it as "some kind of archaic think chamber" and assumed that everything was a weapon.

 

* Peridot first described it as "some kind of archaic think chamber" and assumed that everything was a weapon.

 
 
−

== Gallery ==

+

Gallery

−

<gallery>

 
−

CaR 2.png

 
−

CaR 89.png

 
−

CaR 88.png

 
−

CaR 87.png

 
−

CaR 86.png

 
−

CaR 85.png

 
−

CaR 84.png

 
−

CaR 75.png

 
−

CaR 73.png

 
−

CaR 72.png

 
−

CaR 66.png

 
−

CaR 65.png

 
−

</gallery>

 
−
 
 

{{Locationnav}}

 

{{Locationnav}}

−
 
 

[[es:Baño de Steven]]

 

[[es:Baño de Steven]]
---
Revision as of 05:04, 15 December 2019
Steven's Bathroom is located in the Beach House. This is the area in which Steven prepares for the day, and also where Peridot was kept. It debuted in "Catch and Release" after Peridot was set free by Steven and subsequently evaded capture until she locked herself in this room. After moving to the Barn, which was later taken to space by Lapis Lazuli in "Raising the Barn", Peridot has moved back into the bathroom.
Appearance
Under Steven's room, around the corner, reveals a typical bathroom. It holds many normal items, including a red sink, shower (with a red curtain and many yellow stars, similar to Steven's shirt), bathtub, mirror, toilet and a red rug. According to Peridot, the room has a citrus scent to it.
Following the house's renovations between "Change Your Mind" and the movie, the bathroom itself remains virtually unchanged. The side with the door, however, is slightly expanded, with the door itself now facing the right side of the house rather than the back.
History
Steven is shown brushing his teeth, waxing his ears, and shining his Gem in his bathroom. When Peridot is later cornered in the house, she locks herself in the bathroom. Over the course of Peridot's stay in the bathroom, Steven has been the only person allowed access inside to prepare for the day, or to simply go to the bathroom.
Peridot is shown to be still locked inside of the bathroom, and only runs out when she hears the loud crack of thunder, and when the other Gems are gone.
After the Cluster is taken care of and Peridot becomes a member of the Crystal Gems, Steven offers her to live in his bathroom again. Peridot rejects, stating that she has seen what goes on in there.
Connie finds Peridot and Lapis in the bathroom, where Peridot wishes to show Lapis her old room. Peridot is seen trying to flush herself down the toilet like she once did before.
Steven uses the bathroom to take a shower after Connie and her mother left. He also changes his clothes from "The Zoo".
After Lapis flies off Earth and takes the barn with her, Steven lets an upset Peridot take refuge in his bathroom once again, only this time with Pumpkin.
After a few days of staying in his bathroom feeling depressed, Amethyst decides to take matters into her own hands and accompanied by Steven, convinces her to the Kindergarten.
Steven uses the bathroom before sleeping and saying goodnight to Peridot. She is seen sleeping in the bathtub, together with Pumpkin.
TBA
Objects
In Steven's bathroom, there are various items and objects, such as the sink, shower, a plunger, a toilet, laundry basket full of Steven's dirty clothes, a rug, towels, Steven's toothbrush and toothpaste, a comb (which he never uses), a device that might reference a Gameboy, and some magazines.
Trivia
Peridot first described it as "some kind of archaic think chamber" and assumed that everything was a weapon.
Gallery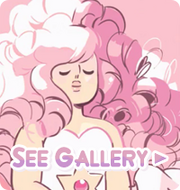 Community content is available under
CC-BY-SA
unless otherwise noted.