"Steven's TV" is a television located in the Beach House in Steven's loft. It first appeared in "Gem Glow" and has made several appearances since.
History
Steven's TV was first shown in Gem Glow and then in the background of "Cheeseburger Backpack". It has made appearances in other episodes since, notably "Rose's Room", "Steven the Sword Fighter", "Cry for Help", "Steven vs. Amethyst", "Bismuth" and "Know Your Fusion"
It's located in his loft in the Beach House. He mainly uses it to play his video games and to watch his favorite TV shows, like "Crying Breakfast Friends", and movies. He shares it with the Gems on occasion and lets them use it as well.
It was also used as a form of communication during "Cry For Help", when Peridot used to Communication Hub as a way to contact Homeworld by means of TV waves.
In "Steven Universe: The Movie", it shows as the TV on top of the shelf.
Description
It is a medium sized standard definition television with AV attachments. It has a VCR and DVD player installed.
Trivia
Gallery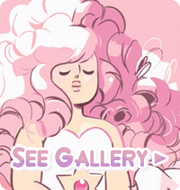 Community content is available under
CC-BY-SA
unless otherwise noted.