We're Getting Mutants in the MCU - The Loop
Play Sound
"

Hello Beach City! It's great to be back!

"
—Steven
"Steven Floats" is the 6th episode of the third season of Steven Universe and the 84th episode overall.
Official Synopsis
Steven is so excited to be back home that he jumps for joy and jumps way too high.[2]
Plot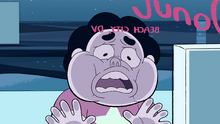 The Crystal Gems return home late at night and Steven rejoices. He excitedly runs outside as he misses the whole town and goes to the Big Donut to get a snack. Unfortunately, it is too late, and the shop is closed, with Sadie locking the door. Steven begs her to open the Big Donut, but she refuses to do so. However, she tells him that they finally started baking their own donuts, and if Steven arrives at the shop as it opens, he can have the first fresh donut. Steven is excited and comes back home to set an alarm for 6:55 AM.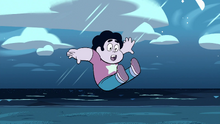 As Steven gazes upon the beach before him, he happily jumps up. His jump takes him to the face of the temple fusion which surprises Steven as he has never been able to jump so high. He slowly falls back down safely and starts to play around with his new power. Steven eventually jumps high above the clouds where he can see all of Beach City. Amazed and commenting on how the town looks so small from up high, Steven muses about jumping around Funland but quickly realizes that he cannot fall any faster, so he begins to patiently await his full descent. Amethyst comes outside from the beach house to look for Steven but cannot find him. Eventually, he gets her to notice him floating in the sky and asks her to get Garnet for help.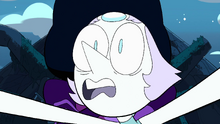 Garnet arrives on the scene with Pearl panicking about Steven's predicament and runs around in hopes of catching him when he falls. Garnet violently acquires a phone from Kofi Pizza to call Steven to help him out. He tells the gems that he is alright, but he has no idea what his new powers entail. Garnet and Amethyst comment that Rose was able to regulate the speed of her descent and Pearl suggests that Steven try to fall faster. He doesn't know how to do that, however, so he asks the gems to keep him company until he eventually lands. The gems play games with him in the air until sunrise when his alarm goes off. Amethyst asks him about the alarm, and Steven suddenly realizes that the store is about to open.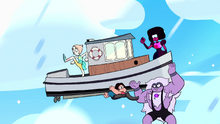 Steven urges the gems to find a way to get him down quickly, and Pearl suggests that weighing him down might work. After loading him with a boat and all the gems combined, his descent remains as slow as ever. He asks if they have anything else to weigh him down, and Garnet shows him the alarm clock, reading 7:26. He thanks the gems for trying to help him but it is too late for him to get his fresh donut. Steven begins to have depressive thoughts about all the townspeople getting their donuts until they would notice his disappearance until eventually he falls down and dies.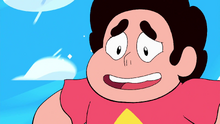 He starts falling faster and tries to contact the gems, but he lost his phone, but gets an epiphany - his power is controlled by his emotions, just like the rest of his powers, and tries to think of something happy. He bounces around several ideas until he thinks about how the gems spent the whole night up just to keep him company, and they will always be there for him no matter how many times he messes up.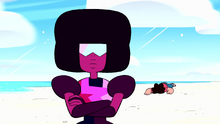 On the ground, Garnet tells the gems that it is at this point that Steven realizes how he can control his new power and is about to land safely to the ground to give them all a hug. Instead, Steven falls face flat on the sand and runs up to the gems, but Garnet urges him to go to the Big Donut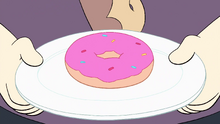 He happily jumps towards the shop seeing Sadie come only now to open it up. He tells her that he thought he was late, but she replies that the shop always opens later on Sundays. She gives him his favorite donut, and Steven excitedly jumps up but ends up crashing into the ceiling.
Features
Characters
Objects
Locations
Music
Instrumental Song
Trivia
The original title card style returns since its change in "Too Far".
This episode's name is first revealed in the episode listing on the Cartoon Network website.[3]
Cultural References
Steven imagining what will happen if he doesn't come down soon is reminiscent of when Snoopy imagines what'll happen if Charlie doesn't feed him soon in You're a Good Man, Charlie Brown.
When Garnet decides to make a move when playing checkers against Steven, a red exclamation point appears, similar to its usage in the Metal Gear franchise.
Dhawar Airlines, an airline shown briefly at one scene, is most likely a parody of Air India, SriLankan Airways or Philippine Airlines, with its livery resembling Thai Airways and logo pattern resembling JetBlue.
The aircraft, which Dhawar Airlines was flying, is a Boeing 747-200M (Combi). The -200M is a variant of the 747-200 wherein the passenger and the cargo deck share the aircraft cabin. In real life, a -200M may lack passenger doors or windows at the rear, as shown in the scene. The largest operator of the 747 Combi variant is KLM.
Garnet says, "Ground Control to Steven Universe," when she calls him on the phone. This is possibly a reference to the song "Space Oddity" by David Bowie, which begins with the lyric, "Ground Control to Major Tom".
Sadie says "Alas, poor Steven, I knew him well," which is a reference to the William Shakespeare play Hamlet.
At the end of the episode, Steven says "Oh, bother" which happens to be a catchphrase said by Winnie the Pooh.
Continuity
Errors
When Steven lands on the beach and goes to give the gems a hug, he is wearing his flip-flops even though he was not wearing them when he was falling down a few seconds earlier.
Transcript
View the episode's transcript here.
Gallery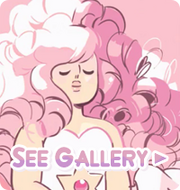 Videos
References