She-Hulk Trailer Dropped - The Loop
Play Sound
"Steven Reacts" is a short, released on iTunes initially, and now on Cartoon Network's YouTube channel.[1]
Synopsis
Steven reacts live to a brand new episode of his favorite cartoon show.
Plot
The short begins with Steven expressing his excitement to the viewer about his favorite show, Crying Breakfast Friends!, finally returning for a new episode. Steven puts on the episode, singing along to the theme song, and the viewer can see him watching it as well. The episode's title is called "Party Crashers", and Steven comments on it as he watches.
In the episode, Pear begins to cry and Spoon appears, asking why he was crying. Pear says he invited his friends over for a breakfast party, but nobody came. Spoon says that's what they had come for and they begin to cry and apologize for being late. The conflict being resolved even makes Steven cry, and he comments that he didn't think he would be crying this early into the episode.
Suddenly, an ominous entity shadows the breakfast friends, making them run. The entity is revealed to be a fridge, and it opens to reveal its contents: Pizza, Sandwich, and Burger. Sandwich tells everyone that breakfast time was over and to clear the table because "there's only room for one meal at a time." They introduce themselves as the "Angry Lunch Enemies", and Steven is excited that his theory that they were lunch was confirmed.
Pear begins to cry until Spoon comes up with a solution, saying that maybe there could be two meals at the same time, and they wanna try it with them. Sandwich reluctantly agrees, saying he was "angry about it." Spoon calls over Fried Egg, Avocado, and Bacon Strips, and the Angry Lunch Enemies begin to place themselves in between Sandwich, making brunch, to Steven's excitement.
The episode ends and as the credits roll. Steven tells the audience he can't wait for the next episode, "whenever that is," and tells the viewer goodbye.
Features
Characters
Objects
Locations
Music
Songs
Crying Breakfast Friends Theme Song
Trivia
The theme song for Crying Breakfast Friends! is revealed.

The theme song is only 9 seconds in length, and the lyrics are as follows:
Tears of sorrow
Tears of joy
There'll be tears 'til the very end
Food with feelings
Crying Breakfast Friends!
Cultural References
Steven mentions that he wanted to stay off the internet so he wouldn't "get spoiled", which has been a concern for fans when episodes are leaked early, but he also uses the phrase as a pun on perishable foods spoiling.
The show is shown to be created by "Samantha Pepper", an alias that parallels Rebecca Sugar, the creator of Steven Universe.

Additionally, the two storyboarders of the episode are called Geoff Lao and Howard Collins, both paralleling the team of storyboarders responsible for the shorts: Jeff Liu and Colin Howard.

Behind Steven, the names of several Dolphin games can be seen on his shelf, all of which correspond to real-life video games on the GameCube.
Steven's joke "I can't wait for the next episode! Whenever that is, am I right?" is most likely a reference to the show's long-time history of hiatuses.
Continuity
Transcript
View the episode's transcript here.
Gallery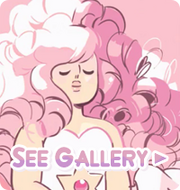 References