Wiki Targeted (Entertainment)
Play Sound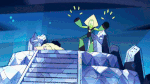 "You have to fix this!"
Level 2 Canon
This page contains content that is considered "level 2 canon" and may be contradicted by the TV series.
Steven Universe: Camp Pining Play is a graphic novel by KaBOOM! Studios that was released on April 23, 2019.
Synopsis
Peridot--along with Steven, Lars, and Lapis--puts on a play based on Camp Pining Hearts, a cult classic television series in the Steven Universe world.
IT'S SHOWTIME!
When Peridot and Lapis discover Camp Pining Play fanfiction, they fall in love with Lars' secret story and decide to put on a live performance for Beach City! With Steven, Connie, and the Crystal Gems, Peridot and Lapis become true thespians and work together to find a solution when parts of the story remind Lapis of her time with Jasper and jeopardize the play's production.
Plot
TBA
Features
Characters
Locations
Trivia
References