Wiki Targeted (Entertainment)
Play Sound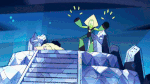 "You have to fix this!"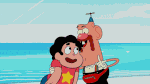 "Don't worry, bro. None of this is canon."
This article contains information on a subject that is not considered canon in Steven Universe.
Steven Universe: Cherished Memories is a paperback book that was released on January 5, 2021. It is published on behalf of KaBOOM! Studios and includes issues 33 to 36. The book is written by Taylor Robbin and illustrated by S.M. Mara.[1]
Description
All new stories from the world of the Cartoon Network Emmy® Award-nominated series Steven Universe™!
Can Peridot convince her friends that Camp Pining Hearts is the very best show ever, or is she the one who has to learn a lesson? Meanwhile, Lars encounters some new friends in outer space - but they're not at all what he expected. While Greg and Bismuth try to "Fix" Beach City, they soon learn that not everyone shares their views. And can Steve[sic] & Connie survive a dangerous trip to...wait for it...the library???
Join Steven, Connie, Lars, all the Crystal Gems and more for all-new adventures in Beach City and beyond from writer Taylor Robin and artist S.M. Mara! Collects Steven Universe #33-36.
Product Details
Grade Level: 4 - 6
Series: Steven Universe (Book 9)
Paperback: 112 pages
Publisher: KaBOOM! (January 5, 2021)
Language: English
ISBN-10: 1684156270
ISBN-13: 978-1684156276
Product Dimensions: 6.6 x 10.2 inches
Issues
Trivia
TBA
References