Wiki Targeted (Entertainment)
Play Sound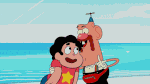 "Don't worry, bro. None of this is canon."
This article contains information on a subject that is not considered canon in Steven Universe.
Steven Universe: Tap Together was a free-to-play Steven Universe video game for Android and iOS. As of December 2019, the game has been taken off of the Google Play Store and App Store.[1]
Gameplay
Team up with your friends to protect Rose's Room in an unforgettable RPG starring all of your favorite Steven Universe characters.
Cloud monsters are taking the shape of Steven's greatest foes, but he's not alone. You and your friends have the power to put a stop to these creatures and their ever-growing power.
Join or create a club and fight against Bosses together with your friends and become the strongest club.
Daily Rewards, Quests and Achievements
Each day resets at 6AM ET. You start off with one free Multiplayer Battle ticket per day.
Daily Rewards include tickets, coins, powerups, and Hero Fragments (each month has a specific hero). Daily Rewards reset every month, so it's recommended that you log in every day.
Note: There are Daily Rewards for every day of the month, but the rewards are per time that you log in, not for that specific day of the month. For example, if you log in 2 times in a month, you'd get Rewards #1 and #2, not the dates you logged in.
A new Quest appears every 8 hours, and their rewards include various coin amounts as well as singular Hero Fragments. You can also refresh a Quest once per day if you need to.
Achievements are a great way for new players to obtain coins.
Supercharge
Supercharging is available once every 24 hours; it reverts your heroes to Level 1 and drops you back to Stage 1-1, but you get to open any chests you've found and you keep those items or Hero fragments. Multiplayer Battle levels are also based on when you Supercharge, NOT whatever level you're currently at. If it's your first day and you've never Supercharged before but your Heroes are level 100, your Multiplayer Battle level will still be 1 until you Supercharge.
Chest rewards start at Stage 7–1, meaning you must beat Stage 6-100 first. You'll receive a chest for every 100 levels of a Stage that you pass. It's recommended that you Supercharge every day, at a convenient time, so that you can get the most out of your rewards.
Note: Beating Stage 6-100 will reward you the Stage 6 chest, not Stage 7.
Chest Tiers
Stage 6-7 chests contain Tier 1 items
Stage 8-9 chests contain Tier 2 items
Stage 10-14 chests contain Tier 2 OR Tier 3 items OR Hero Fragments.
Stage 15-24 chests contain Tier 3 OR Tier 4 items OR Hero Fragments.
Stage 25-44 chests contain Tier 4 OR Tier 5 items OR Hero Fragments.
Stage 45-59 chests contain Tier 5 OR Tier 6 items OR Hero Fragments.
Stage 60-74 chests contain Tier 6 OR Tier 7 items OR Hero Fragments.
Stage 75-85 chests contain Tier 7 OR Tier 8 items OR Hero Fragments.
The Chests can contain Steven, Connie, Sapphire, Ruby, Onion, Amethyst, Pearl, Greg, Buck, Mayor Dewey, Mr. Smiley, Kiki, Sour Cream, Bismuth, Pumpkin, Ronaldo, Dr. Maheswaran or Baby Melon fragments.
Inventory
Equipment
Items are used to boost the Stats of your Heroes. The most common way to obtain items is to join a Club and play Multiplayer Battles. Second to that is Supercharging, and lastly would be to buy cases.
You must complete the entire tier (all 8 items) per Hero before you can move on to the next tier of items. You'll eventually collect enough to add items to everyone, but it's recommended that the player gives priority to its strongest Heroes/team.
You cannot unequip an item, so choose carefully.
The higher the tier, the bigger the boost the item provides. For example, Tier 7's "Diamond Communicator" adds +972774% Tap Damage, where as Tier 1's "Metal Mutt" adds +99% Tap Damage.
Tier 1 items require 1 fragment
Tier 2 items require 2 fragments
Tier 3 items require 5 fragments
Tier 4 items require 10 fragments
Tier 5 items require 15 fragments
Tier 6 items require 20 fragments
Tier 7 items require 25 fragments
Tier 8 items require 30 fragments.
Club Info
Creating a club requires spending 50 Coins, but joining a club is free. The maximum Club VIP (not to be mistaken with Shop/Personal VIP) level is 21. Club VIP increases the amount of members you can have in your club, unlocks Auctions at level 5, bonus coins for payment, damage to boss while offline, unlocks the Club Case, and more.
There are also three club roles: member, officer, and leader.
Member is the rank you start with in a club can be removed from the club by officers and leaders.
Officer is a rank that can only be obtained when the leader allots it to a member and can only get removed by the leader. Officers can accept and reject member applications, as well as kick members out, so be careful who you promote to Officer.
The leader is the creator of the club and cannot be removed from it.
Club Tournaments
Each tournament lasts 7 days, and is based on points from your Club's Multiplayer Battles. If the club is in first or second place, the club will be placed in a higher tier for the next tournament. If the club is in last or second-to-last place, the club will be placed in a lower tier for the next tournament.
Multiplayer Battles
Previously mentioned in Supercharge, Multiplayer Battle levels are based on when you Supercharge - NOT whatever level you're currently at. Multiplayer Battles are based around the Host's Multiplayer Battle Level, not each player's individual level. To better explain this:
If an Experienced Player hosts a Level 500 battle and brings New Player along, the game scales upwards to the Experienced Player's level so the New Player can potentially survive and obtain high tier rewards.
However, if the New Player hosts a level 100 battle and brings the Experienced Player, the game scales down to the New Player's level so the Experienced Player can't suddenly boost the New Player to Level 500.
Hosting a Multiplayer Battle will result in the host gaining around 100-140 points, and each clubmate who joins will gain around 20 points. These points are used for Club Tournaments (as previously mentioned) as well as to increase your Club VIP level.
Each day of the week has a specific Multiplayer Boss. They are:
Frybo, Eye Cloud, Electric Skull, Watermelon Tourmaline, Ringo, Storm Warrior, and Cloud Beast.
Each boss has a set reward list of Equipment per Multiplayer Boss level tier. This is a great way to farm equipment for you and your clubmates.
If your Multiplayer Boss level is under 200, then your possible Hero Fragment will only be Buck. However, when you surpass Multiplayer Level 200, then you have a chance of gaining that day's Hero. These heroes are:
Jamie, Garnet, Lars, Peridot, Sadie, Lapis, and Yellowtail.
After Multiplayer Battle Level 300, you can obtain Relics.
For more details on rewards, please check in game.
Auctions
Auctions are unlocked at Club VIP Level 5, and are a great way for players to offer Hero Fragments to other players. It is similar to but not the same as a trading system, and is only for Hero fragments.
Unlike real life auctions, the 'bid' does not actually get sent to the person who offers the auction piece. For example:
>Person A puts up 1 Lapis fragment for auction.
>Person B bids 5 Buck fragments
>Person B wins the auction
>Person B will get the 1 Lapis fragment
>Person A does NOT get 5 Buck fragments, instead gets Auction Case money.
Auction Cases cost 50 of the Auction Case money, and contain Hero Fragments.
Club Tiers
The higher rank/league your club is, the more rewards you get. The rewards consist of various amounts of a specific Hero fragment (the Hero changes once every two weeks) and coins. You can see each tier's specific tournament rewards in game.
Each tier has 3 levels; for example you start in Bronze 3, then you move to Bronze 2, followed by Bronze 1. After Bronze 1, your club would move into Silver 3, and the same process would repeat.
Each tier, from lowest to highest:
Bronze (3, 2, 1)
Silver (3, 2, 1)
Gold (3, 2, 1)
Platinum (3, 2, 1)
Quartz (3, 2, 1)
Diamond (3, 2, 1)
Diamond 1 is currently the highest rank in the game.
Heroes
The best way to obtain Hero Fragments is through Multiplayer Battles, Tournaments, and Club Auctions. It's also possible to obtain fragments from cases in the Shop.
The diamonds which fall from beating a monster serves as EXP for your Heroes. EXP increases as the Stage increases. Levelling your Hero Roster (heroes who aren't part of your team) is recommended, as it affects the Total Hero Levels multiplier and boosts your team. That being said, equipping items to your Hero Roster will not affect your team.
Heroes work on a 5-Star system, with each star needing double the amount of fragments than the last.
1-Star to 2-Star upgrade = 20 Fragments
2-Star to 3-Star upgrade = 40 Fragments
3-Star to 4-Star upgrade = 80 Fragments
4-Star to 5-Star upgrade = 160 Fragments.
Each star unlocks a new skill/boost, but not a stat boost - stat boosts are from equips.
1-Star Heroes (10 fragments to unlock)
2-Star Heroes (30 fragments to unlock)
3-Star Heroes (70 fragments to unlock)
If you'd like to see more specific details on each Hero or suggestions on team building, I recommend checking out The Rokito's Youtube channel for in-depth character analysis.
Shop
Shop/Personal VIP is a result of spending real money on the game, it's very different from Club VIP. Before you buy something with real money, it should inform you how many personal VIP points you'll get.
Note: While personal VIP can include a Supercharge Cooldown, that does NOT mean that you get an extra Supercharge per day. It lets you Supercharge a little earlier than 24 hours is all.
Shop/Personal VIP can raise your ticket cap, increase the amount of free daily tickets you receive, and so on. You can see each level's rewards in the Shop.
Bosses 
Normal Enemies 
Purple Cloud Monster
Pink Cloud Monster
Yellow Cloud Monster
Blue Crab Monster
Green Crab Monster
Red Kindergarten Monster
Grey Water Bear
Seafoam Water Bear
Corrupted Quartz Monsters (Quartz, Red, Amethyst, Jasper)
Semi-Corrupted Jaspers (Blue and Pinkish Purple)
Other Corrupted Monsters
Locations
Gallery
References
References
External links
Community content is available under
CC-BY-SA
unless otherwise noted.