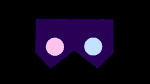 "I see so many possibilities for the future..."
This article contains information about unreleased content. Do not add to this page, unless you have a valid source, and do not add hypotheses to this article.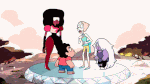 "I don't appreciate your tone."
Please don't add hypotheses in the articles. If you wish to express your opinions, please do so in the
comments
, a
blog
, or the
appropriate board
.

Steven Universe: The Movie is an upcoming feature film based on Steven Universe that will air on Cartoon Network[1] in Fall 2019. It is not known how it will tie in to the TV series.
It was first announced at San Diego Comic-Con 2018 during the Steven Universe panel.
Characters
Protagonists
Antagonists
Trivia
Former Crewniverse member Ian Jones-Quartey returned to work on the movie's story.[2]
It is to be animated by Sunmin Image Pictures Co.[3]
At the end of the first airing of Change Your Mind the teaser trailer played revealing part of the planned release date.
The brief glimpses of the Gems in the trailer shows them in their pre-regeneration outfits. This was most obvious with Garnet's shades being their original shape instead of the top of a star. This was likely done to avoid spoiling the Diamond Days arc's mass regeneration, though their appearances were not updated for the trailer shown after Change Your Mind.
Video
References