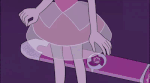 'Please... Let's never speak of this again.'
This article has been locked while the show is on hiatus. If you feel that there is an edit that must be made on this article please contact a member of
staff
.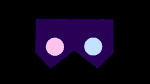 "I see so many possibilities for the future..."
This article contains information about unreleased content. Do not add to this page, unless you have a valid source, and do not add hypotheses to this article.
Steven Universe: The Movie is an upcoming feature film musical based on Steven Universe that will air on Cartoon Network[2] on September 2, 2019.[3] It was first announced at San Diego Comic-Con 2018 during the Steven Universe panel. A DVD set will be released later in the year. The film runs at approximately 82 minutes long.[4]
Story
The movie is set two years after the events of season five and features a visibly older Steven in his sixteenth year against a world filled with new developments. The official synopsis follows:
Steven thinks his time defending the Earth is over, but when a new threat comes to Beach City, Steven faces his biggest challenge yet.[5]
Characters
Protagonists
Antagonists
Others
Musical contributors
The movie will include collaborations with several outside musical artists in different kinds of genres, as well as regular contributors to the franchise:
A new soundtrack is scheduled to be released both physically and digitally alongside the film.
Vocal
The Tale of Steven
Let Us Adore You
Happily Ever After
Other Friends
system/BOOT.pearl_final(3).Info
Who We Are
Isn't It Love?
No Matter What
Disobedient
Independent Together
Drift Away
Found
Change
Let Us Adore You Reprise
Finale
True Kinda Love (Music Video Version) [Digital Bonus Track]
Instrumental
Once Upon a Time
Message to the Universe
Home Sweet Home
The Arrival
One on One
With Friends Like These
Crystal Gem Huddle
Hijinks Will Ensue
Search Party
Echoes of Friendship
Our Handshake
No Ordinary Injector
Let's Duet
Running Out of Time
Feelings Flooding Back
A Special World
Downward Spiral
The Missing Piece
Not Good at All
There's No Such Thing as Happily Ever After
Are We Interrupting Something?
Production
The movie is executive produced by Cartoon Network Studios and Rebecca Sugar. Co-executive producers include Kat Morris, Joe Johnston, Alonso Ramirez Ramos[7] (known for storyboarding 14 episodes of the series Gravity Falls), and Ian Jones-Quartey.
Rebecca Sugar also serves as the film's director.[8]
Former Crewniverse member Ian Jones-Quartey is also involved on the film's story.[9]
Storyboard work on the movie took place between late 2017 and early 2018.[10]

Christopher Pianka, otherwise known for The Owl House, is credited[11] as a storyboard artist on the movie. 

It is to be animated by Sunmin Image Pictures Co.[12]
On June 13, 2019, new musical additions to the cast such as Chance the Rapper and Gallant were announced via Cartoon Network's Twitter. [13]
The official trailer for the movie was released on July 19th, 2019 during the Steven Universe panel at San Diego Comic-Con.
Artbook
An artbook, The Art of Steven Universe: The Movie, published by Dark Horse, will be made by Ryan Sands and Rebecca Sugar and released alongside the premiere of the movie. It can be pre-ordered through Amazon, Barnes & Noble, DarkHorse.com, and at your local comic shop. This unique, 96-page zine-like softcover retails for $19.99.[14]
Videos
Trivia
At the end of the first airing of "Change Your Mind", the teaser trailer played revealing a part of the planned release date.
The brief glimpses of the Gems in the teaser shows them in their pre-regeneration outfits. This was most obvious with Garnet's visor being their original shape instead of the top of a star. This was likely done to avoid spoiling the Diamond Days arc's mass regeneration, though their appearances were not updated for the trailer shown after "Change Your Mind" first aired on Television.
A video by Cartoon Network (featuring sketches by Rebecca Sugar and interviews with Sugar and Zach Callison) confirmed that the movie would take place approximately two years after Season 5, with Steven receiving a new design first shown in the official poster. Steven, in his 16-year-old design, now wears a blue star shirt with a pink jacket, is taller, and has a visible neck.[15]
References
Community content is available under
CC-BY-SA
unless otherwise noted.