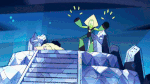 "You have to fix this!"
Level 2 Canon
This page contains content that is considered "level 2 canon" and may be contradicted by the TV series.
Steven Universe: To Be Happy is a paperback book that was released on September 8, 2020. It is published on behalf of KaBOOM! Studios and includes issues 29 to 32. The book is written by Sarah Galley and illustrated by Rii Abrego.[1]
Description
Join Steven, Connie, Mayor Nanefua, all the Crystal Gems and more for all-new adventures in Beach City and beyond from writer Sarah Galley (Magic for Liars) and artist Rii Abrego (Rick & Morty)!
Amethyst is sad, but can't explain why—but can Greg and Steven find a way to cheer her up? Then, Pearl learns a lesson about what hard work really means and why we all need a break sometimes. A dance off[sic] comes to the boardwalk— but can PeeDee take home the big prize? And Sadie learns a surprising secret behind why she's feeling not-so-purrfect!
Collects Steven Universe #29-32.[1]
Product Details
Age Range: 9 - 12 years
Grade Level: 4 - 6
Series: Steven Universe (Book 8)
Paperback: 112 pages
Publisher: KaBOOM! (September 8, 2020)
Language: English
ISBN-10: 1684156262
ISBN-13: 978-1684156269
Product Dimensions: 6.6 x 10.2 inches
Issues
Trivia
TBA
References
Community content is available under
CC-BY-SA
unless otherwise noted.