Wiki Targeted (Entertainment)
Play Sound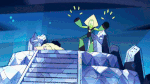 "You have to fix this!"
Level 2 Canon
This page contains content that is considered "level 2 canon" and may be contradicted by the TV series.
Steven Universe: Ultimate Dough-Down is a graphic novel by KaBOOM! Studios released on December 11, 2018.
Synopsis
With Sadie running the Big Donut on her own, it's up to Steven and the Gems to help her win the annual Ultimate Doughnut Dough-Down competition in Empire City! Steven and the Crystal Gems have faced down intergalactic empires, but are they ready to win a donut competition? With Lars in space that means Sadie is on her own...unless the Crystal Gems come to help! It's up to Steven and the Gems to step in and help Sadie run the Big Donut food truck during the annual competition in Empire City. They'll have to work together to best the other chefs in the Ultimate Dough-Down, especially King Kruller, one of the hippest shops around and the Dough-Down's reigning champs.[1]
Plot
TBA
Features
Characters
Locations
Trivia
The comic takes place between the episodes "Letters to Lars" and "A Single Pale Rose", as Bill Dewey is already working at the Big Donut (Sadie already quit but does the contest as a favor to her old boss) but Steven doesn't understand why he's having dreams of Pink Diamond.
References