We're Getting Mutants in the MCU - The Loop
Play Sound
Steven Universe is an American animated television series created by Rebecca Sugar that focuses on a young boy named Steven Universe, the youngest member of the Crystal Gems, a team of magical guardians who protect the Earth.
The pilot was released on May 21, 2013, on Rebecca Sugar's father's YouTube channel (but has since been removed). The show premiered on Cartoon Network on November 4, 2013, in the U.S., on January 6, 2014, in some parts of Asia, and April 7, 2014, in South America. On July 25, 2014, it was announced that Steven Universe has been renewed for a second season,[3] and on July 7, 2015, it was announced that the series had been renewed for a third season.[4] On March 30, 2016, it was declared that these two seasons would be subdivided to create four seasons of shorter length, giving the show five seasons total.[5]
The show aired its series finale, "Change Your Mind", on January 21, 2019, concluding the series with 5 seasons and 160 episodes.
It was announced on July 21, 2018, at San Diego Comic-Con that a film adaptation of the series, entitled Steven Universe: The Movie, would be coming out. It premiered on September 2, 2019.
It was announced on October 4, 2019, that the show would be succeeded by an epilogue show, entitled Steven Universe Future. The series takes place after the events of the movie and premiered on December 7, 2019. It ended on March 27, 2020.
Plot
Main article: Episode Guide
In Steven Universe, the world is protected from evil threats by the Crystal Gems, a movement of Gems sworn to protect the Earth from the Homeworld Gems. Their powers flow from their gemstones; magical gems embedded somewhere on the host's body. The four Crystal Gems are Garnet, Amethyst, Pearl, and Steven. Multiple gems, such as Peridot, Lapis Lazuli, Bismuth and a human, Connie Maheswaran has also joined the team. Steven is a young half-human, half-gem boy who inherited his gemstone from his mother, a Crystal Gem named Rose Quartz, who gave up her form to create Steven. As Steven tries to figure out the secrets to using his gem, he spends his days in Beach City doing activities with the other Crystal Gems, whether it's helping them save the universe or just hanging out.
Voice Cast
Main Cast
Major Supporting Cast
Supporting Cast
"Say Uncle" Cast
Development
Concept and Creation
The titular character, Steven, is roughly based on Sugar's younger brother Steven Sugar,[6] who is now a background artist for the online web series, Bravest Warriors, created by Pendleton Ward of Adventure Time fame (he is a background artist for Steven Universe as well). Growing up, Sugar would create miscellaneous comics between herself and Steven, as well as with other friends.[7] In an interview with The New York Times, she commented on the development of the titular character's background, expressing her desire to base the character from the viewpoint of her brother growing up "where you're so comfortable in your life because you get all the attention, but you also want to rise up and not be the little brother."[8] The show is set in the fictional Beach City, which is loosely based on Rehoboth Beach, Bethany Beach, and Dewey Beach, Delaware, all places that Sugar visited as a child.[6]
Production
According to Sugar, production began on the show concurrently while working on Adventure Time. Her last episode for the series was "Simon & Marcy", in which working on both simultaneously "became impossible to do". Similarly, she would encounter difficulty around the production of the episode "Fionna and Cake".[9]
Music
The series features songs and musical numbers produced by Sugar along with her story writers, who collaborate on the lyrics for each song. According to Sugar, not every episode will feature a song, instead opting to feature one every couple episodes "where it always feels right".[9] The series premiere, "Gem Glow", features a rap song written by storyboard artist Jeff Liu, who programmed the beat into his Game Boy using Little Sound DJ.[10] The soundtrack for all of the episodes is composed by Aivi & Surasshu with some demos by Jeff Liu.
Broadcast History
The pilot episode for Steven Universe, along with a few other pilots, was released on Cartoon Network's video platform on May 21, 2013.[11] They were taken down and redirected to a 404 page shortly after.[12]
On July 20, 2013, Cartoon Network uploaded an edited version of the pilot to both their official website and Facebook page.[13] The pilots were also exhibited at the San Diego Comic-Con,[14] and from July 27 to July 28, 2013, Cartoon Network aired a sneak peek of the pilot as part of Big Fan Weekend, along with the pilots for Clarence and Uncle Grandpa. A 30-minute panel dedicated to the series was hosted at the New York Comic Con on October 13, 2013, with Rebecca Sugar hosting.[15]
The series premiered on November 4, 2013, on Cartoon Network, with two episodes. Season 1B's last episode aired on March 12, 2015, during the first StevenBomb, with Season 2 beginning on March 13, 2015 (however, Season 1B did not officially end until April 16, 2015). Season 2 ended on January 8, 2016, during the fourth StevenBomb. Season 3 premiered with two episodes on May 12, 2016, and ended during the Summer of Steven on August 10, 2016. Season 4 premiered during the Summer of Steven on August 11, 2016, and ended with two episodes on May 11, 2017, during the sixth StevenBomb. The fifth season began on May 29, 2017, with Wanted, an hour-long special consisting of four episodes. The fifth season concluded on January 21, 2019, with the hour-long special, "Battle of Heart and Mind ", during the Diamond Days event (making it the longest-running season of the series). A film based on the series premiered on September 2, 2019.
The show is also available online internationally on iTunes, Google Play and Amazon Instant Video, and in America on Hulu (though currently, only the first four seasons are available).
Reception
Initial announcements of the series have attained positive press for Sugar being the first female creator for any show produced by Cartoon Network Studios.[16] When asked about her role as a solo female creator, she responded with gratitude towards the feedback, ultimately voicing her passion to be a role model "just in the sense that I get to make what the ultimate cartoon should be. I tried to be a role model [by showing that] anyone who wanted to could take really traditional ideas of animation and bring them into the present but keep all the trappings of what [was] used [to make cartoons great] in the past."[17]
Steven Universe has received critical acclaim for its music and voice performances, storytelling, its characterization, and the "breathtaking beauty", "intriguing, immersive environments" and "lovably goofy aesthetic" of its art.[18]
Trivia
According to Matt Burnett and Joe Johnston, each episode takes approximately 9 to 12 months to make and release.[19]

After being pitched, approved and storyboarded, the phases of production are voice recording, animatics, design, overseas animation, editing, music, and sound design.[20]

As a "board-driven" show, Steven Universe does not rely on traditional scripts. Instead, the writers write up episode outlines that cover the story framework, and then the outlines are given to teams of storyboard artists who do the storyboarding and write the dialogue.[21]

After the storyboards have been completed, a member of the production staff writes out the actual script for the recording session. Instead of scene headings or action descriptions like a traditional live-action script, there are numbers corresponding to the numbered storyboard panels. During the recording sessions, showrunner Rebecca Sugar and voice director Kent Osborne pitch the scene to the actors using the storyboards as references.[22]
Storyboards are made with ToonBoom's Storyboard Pro software.[23]

According to various Crewniverse members, Steven Universe isn't supposed to be about heroes or villains.[24][25]
During NYCC 2016, Rebecca revealed that she does have plans for how the series will end.[26]
During a Q&A at a Toonami Panel at Momo Con 2015, someone asked "Because of the dark hints in Steven Universe...it may get dark later on and you might take it over?" and it was confirmed Toonami would appreciate the idea of having Steven Universe on their network, but they cannot because too many kids are watching.[27]
The Steven Universe franchise officially ended on March 27, 2020, with the premiere of the last episode of its epilogue series, "The Future".
According to Rebecca Sugar, she was notified in 2016 that the series would be cancelled at the end of the fifth season. She prevailed upon Cartoon Network to extend the fifth season to 32 episodes, in order to have room to complete the story, as well as a follow-up television film, Steven Universe: The Movie. Along with the film, Cartoon Network also greenlighted an additional season of 20 episodes, which would become the sequel series Steven Universe Future, taking place after the events of the film. Despite the show's end, Sugar has indicated that more stories could exist, but has stated that she needs a long break before deciding how to approach such a continuation.[1]
Gallery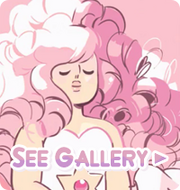 External Links
Official Links
Digital Distribution
Unofficial Links
Interviews
Other Articles
References