WELCOME TO THE WIKI
Welcome to the Steven Universe Wiki! This is an online portal for Steven Universe that anyone is free to edit. Please note that this site may contain spoilers if you are not caught up with all of the series' currently released content.
ABOUT THE SHOW
First airing on November 4th, 2013, Steven Universe is a coming-of-age story told from the perspective of Steven, the youngest member of the group, the Crystal Gems, a team of magical guardians, and protectors of the Universe. The animated series was conceived as part of the shorts development initiative at Cartoon Network Studios, and is created by Emmy and Annie Award-nominated writer and storyboard artist, Rebecca Sugar. Sugar is Cartoon Network's first solo female show creator.
MAIN CHARACTERS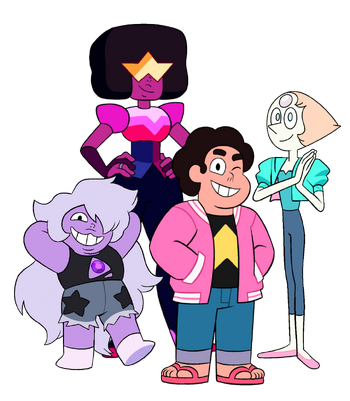 LATEST NEWS
Loading RSS data...
POLLS
Thoughts about the show?
Favorite Crystal Gem Song from the Movie

 

Who is your favorite Diamond?

 
Favorite Minor Crystal Gem Fusion?

 
USERS
Please be aware that while on the Steven Universe Wiki you must be signed in otherwise you cannot edit/comment. If you are 13 years of age or older then click here to sign in and start editing! If you are younger than 13 years of age, you are not allowed to make an account due to laws against underage users.
NEXT EPISODE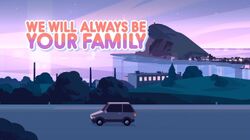 Steven Universe Future has ended.
Thank you, Crewniverse, for everything!
November Birthstone
Topaz
Topaz is an aluminum silicate that contains fluorine and hydroxyl. In its pure form it is colorless (white). Impurities are what cause variations in color. Ancient Egyptians believed that yellow topaz received its golden hue from the sun god. The Greek word "Topazios" or "Topazion"; the ancient name of an island in The Red Sea where the ancient Greeks mined a yellow gem that they believed to be topaz.
(Read More)
Featured Article of November
Topaz is a Homeworld Gem and the fusion of two smaller Topazes who made her debut in "Are You My Dad?".

(
Read More
)
Featured Photo of November
LATEST BLOGS
Create blog post
Blogs
Here are some things Steven Universe got wrong (Geology wise)

Gems are objects and is conf…

Read more >

What if the Moon Goddes Staute is related to the creators of the Diamonds? Cause she is h…

Read more >
See more >
FANON

As we try to keep a good, clean, and canon database for Steven Universe, we don't want the Wiki to be cluttered with fanon material. You may upload, however, clean fanon pictures to your userpage and/or blog. You may also visit our sister wiki, Steven Universe Fanon Wiki, for fanon material as well.